Dreamteam Swim Their Way Around the Course - 14th Feb 2015
Local legends Stuart Sloss & Brad Devine teamed up to form the Dreamteam however were upstaged by GE & Willow as they swam their way around the course.
50-year old Brad Devine suggested that crewing was best left for the younger generation and drinking VB was more in tune with his capabilities.
First Race Handicap Winner – 25th Oct 2014 – Pink Bitz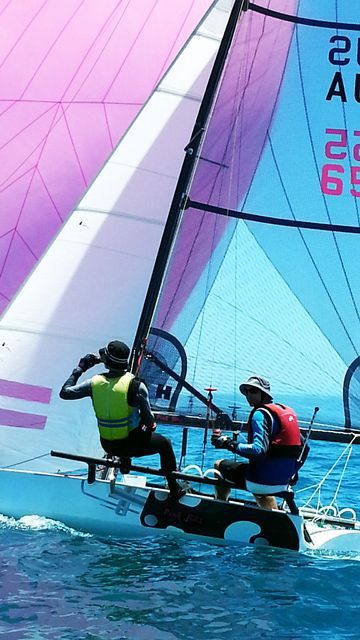 It looks like we are the first in the new season to answer the "How did we do it?" question. Well, new sails and an old handicap is the obvious answer. I guess the handicapper is going to wizen up pretty quick.
It was a race of attrition as from 8 starters, only 4 finished. Zero and Devine Intervention had collisions with boats in other classes and both retired. Right from the start, Stuey and Ben in Wembley Plumbing showed they still had form with blistering speed in the moderate conditions. It's a shame, though, that their boats new colour is a very boring white, just like a bathroom. Scotty and Tony in Zero chased after them hard and were actually in front when a Javelin worked up underneath them in exactly the wrong leeward position. Cam and Sam in Quickshift were also pretty hot and ended up finishing a close second behind the plumbers. Syd and Drew in Reactor sailed a very industrial quality race after solving their capsizing problems from the previous week. The great Dane and I couldn't quite push Pink Bitz up to them so we capsized so that Greg and Tim Vance in Shark Bait could catch up a bit and we could race them. They promptly capsized too and, as it wasn't a capsizing race we were after, we headed for home seeing the Zero/Javelin incident unfold before us.
It was good to see Mark and the (much) younger Cam out with the former Elle Bache. I don't think that it will be long before they will be joining the fun all the way around.
---
Stealth i14 out of China

Innovation and boat handling are synonymous with the International 14 which has remained remarkably progressive considering it is one of the oldest racing classes in the world.

Encouraged by a semi-restricted class rule, the i14 is all about controlled evolution. From trapeze and asymmetrical kites, to foils and carbon, the class has a good record of embracing change, albeit with the inevitable pain.

Innovation however comes at a financial cost and carbon is a good example. It is a fabulous boat building material that delivers incredible high strength to weight ratios. Not surprising, i14 sailors love carbon but that love affair can be expensive due to relatively high material costs and labour-intensive construction demands.

The class, fortunately, is not short of its fair share of resourceful sailors. For several years, a small group of Australian i14ners, led by an unbreakable class president Stewart Vickery, have tinkered with production-run boats.

The challenge of course has been to settle on a design that will give top end performance and to source a builder who has the systems, resources and ability to build in carbon at prices affordable to a wider audience and not just the well-financed class fanatics.

It would seem the Australians have hit on an attractive formula with the Stealth design and a carbon boat builder in China who has built moulds and refined processes to produce a significantly less expensive, light, strong, quality boat.

The result is a super stiff i14 at approximately $13k (all dollars are in US) for hull and racks clear finished plus approximately $2k for duty and freight; or for $15k you are looking at hull, racks, centre board, rudder, foils, rudder box clear finished; plus duty and freight. This means a saving of more than $10k.

Peter Newman of China New Yachts Ltd says they were using products that were available in China at a competitive price which were thoroughly tested in other boats. The 'other boats' from this builder have included the 44ft Veloce which finished second overall in IRC in the 2013 Sydney to Hobart Yacht Race.
"The laminate is carbon pre-preg and Corecell SAN foam construction in female moulds which are cured in our controlled oven," Peter said. "We use a woven carbon prepreg cloth on the outside to get excellent impact without adding much weight, all other materials are unidirectional carbon prepregs at various constructs to gain maximum strength to weight ratios. The semi-monocoque construction gives a very stiff, finished hull, clear painted at less than 46kg."

Newman said they were able to ship to all parts of the world from Qingdao, which was home to the fourth largest container port in China.

Designer David Lugg of Western Australia said Stealth was designed a couple of years ago and has since proven to be an easily driven, stable hull well suited to today's rigs.
"The boat was designed for the moderate to strong winds and relatively flat water that make a 14 such as great boat to sail," according to Lugg. "Although the boat's light weather performance has been good, it was considered some small modifications would further enhance its performance with minimal impact on speed in the stronger wind conditions.
"The construction of new moulds offered the opportunity to tweak the lines. The chine was lifted slightly at the stem and narrowed by 30mm a metre aft of the stem. The Stealth design had a very straight, flat run aft. A small amount of keel rocker has now been added."
Multi national champion in the Australian i14 fleet Brad Devine knows Lugg well and said: "I really like Luggy's design and like the concept of having a cheap builder that can build to high standard with a good design.
"The designs (eg., B5, K3 and Stealth) within the class now are all that similar, that as long as the hull is light and stiff, that is all you need. The next step in the equation is getting a good rig, which is pretty standard now days and a good rudder and centerboard, which is also very standard.
"The way things are shaping up with the boat at this stage, I would suggest that it will be a great success."
Victorian Dave McGeoch was one of the first to order a Stealth from China.

"I can let you know that for someone who has watched the 14 class develop since 1977 to today, it shows to me that the imagination from many sailors in regard to design, construction and fitouts is exceptional.
"The impressive way this build was handled by Peter Newman from the legal documentation of the contract of sale to the regular information supplied at milestones of the build and of course the final delivery has left me in no doubt that his professional competence has been outstanding.
"It appears to me that the light weight 44.5 kg less spin pole, racks and fittings would seem to give me some concern (regarding strength), but having carried out some destructive testing on a sample of the hull it has barely marked the outer skin with no compaction of the inner core."
"The boat's hull looks great and is clean with a simple deck design for ease to fit out."
The Royal Geelong Yacht Club has opened online entries for the 2015 International 14 World Championships, which are to be held from 3rd to 17th January 2015 in Geelong, Australia (see www.i14worlds2015.com).
The 2015 event will mark only the third time that Australia has hosted this World Championships, with the previous event being run on Sydney Harbour in 2010 when more than 100 i14s lined up to start.


Designer Notes:
The hull sections, although fine forward, rapidly become very flat aft of midships and lift to a low chine. The end result is a hull form that has significantly reduced draft compared to other current designs, promoting earlier planing. Modern I14's sail upwind at speeds in the 8 to 12 knot range. Stealth makes a very smooth transition between displacement and full planing mode.
The more powerful, lower drag rigs used today suit a hull form that is flatter and fuller in the ends. The effect is to increase what Naval Architects refer to as the prismatic coefficient, a ratio describing the longitudinal distribution of underwater volume. Higher prismatic coefficients are closely associated with higher hull speeds.
The I14 rule measures the mast height above the sheer line at the mast station, consequently the higher the sheer, the higher the mast. Additionally the increase in sheer height has the benefit of making the boat much stiffer longitudinally and keeps the rack tubes well clear of the water.
The sides of the boat are slightly cambered to increase panel stiffness allowing a thinner, lighter core to be used.
The angle of the bowsprit has been increased from the original design to give the spinnaker tack a greater clearance to the water when the crew weight is moved forward in light weather.

Enquires about the production i14 should go to: anthony.anderson@delam.com.au; or m. 0418 321 345






New I14!!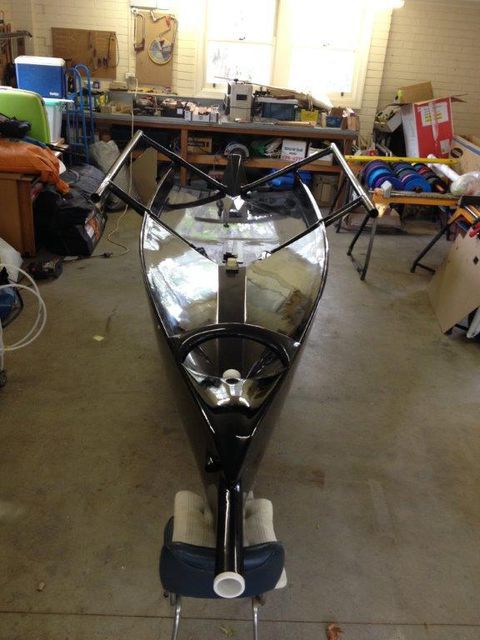 Weight is 49 odd kilo with rack and spin hoop ready for fit out. Base cost for as hull only with racks
$13,000 AUD plus approx. $2,000 for freight and duty.
Boat with all foils, c/board, rudder etc. $15,000 AUD plus $2,000 approx.
for freight and duty.
Delivery time around 12 weeks
If you would like any more details please contact Anthony - anthony.anderson@delam.com.au


International 14's in Albany!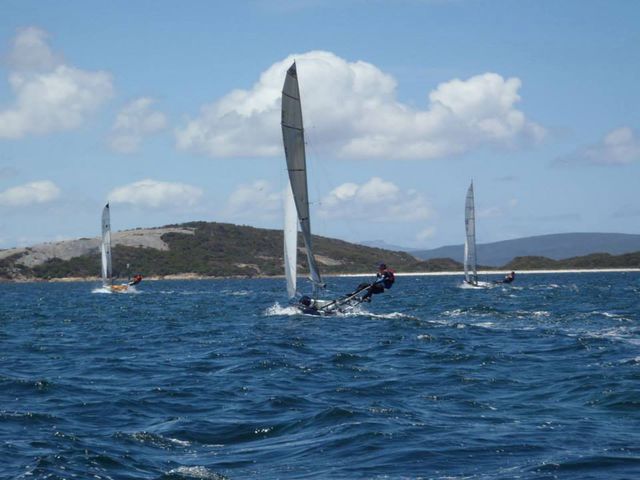 On 21st December 2013, history was once more made in Albany, W.A. A full 212 years after Matthew Flinders sailed into and surveyed King George Sound, and 187 years after Major Lockyer established a settlement in Princess Royal Harbour, another significant event occurred. Three fully rigged International 14's took to the waters of the famous harbour! Locals Peron and Asher sailed aboard AUS 50 whilst Ben and Chris took out a very green AUS 621. Ryan and Nigel, blow-ins from the city, took on the amazing "0.75K", AUS 6, after some quick modifications. As you can see from the photos, the weather was perfect for the trio to take graceful flight against the iconic backdrop of Albany's granite hills. Unfortunately, 0.75 K had to retire early because of centreplate issues but a healthy round robin series continued between the remaining two yachts and alternating crews all afternoon. The local sailors improved significantly with each race and should be nipping the heels of seasoned fleets before too long. We hope to see both boats competing in the Worlds in Geelong in 2015.
By the way, if you want a great holiday destination where you can sail your 14 in fantastic water, consider Albany! The emerging fleet are based at Princess Royal Sailing Club at Little Grove on the south side of the harbour.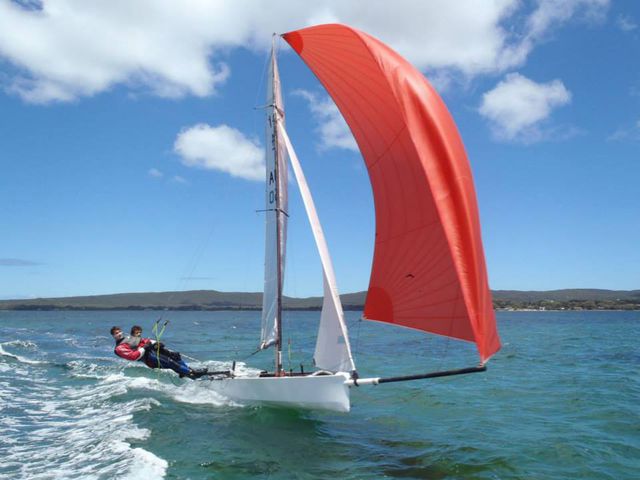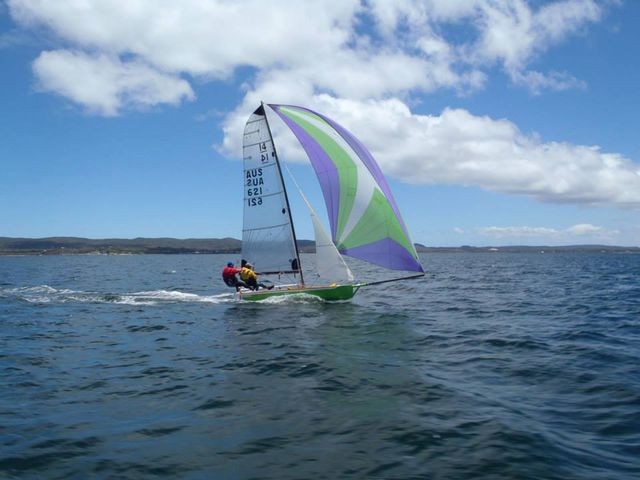 NEW I14's in Production
As you have probably heard, we are building 14's in China to reduce the cost. Here I the attached photos I am really pleased to say is the first hull shell from the female plug.
Stats on the build:
External layup
2 x 200 gram uni directional pre preg carbon fibre
1 x 200 gram pre preg carbon twill
High temp, high density 8-mm SP core
Internal laminate
2 x 200 gram pre preg carbon uni's
The initial result is a very stiff shell that has weighed in less than what was anticipated. Next, the frames etc. The boats will be supplied clear finished with the ability to repair dents and scratches as a black tint has been added to the external clear coat which is applied prior to cooking the shell.
All components will be manufactured from pre preg carbon and high density foam.
The goal is to supply a hull, rudder, rudder box foils and centre board at ½ the cost of other options. We will release the final figures once the first boat is complete, we expect it here in Australia Mid Feb!!!
Stay Tuned or contact admin@international14wa.com for further details


7th of December 2013
Across the Line & Handicap Winner
CST Composites
Stuart Sloss & Ben Lawrie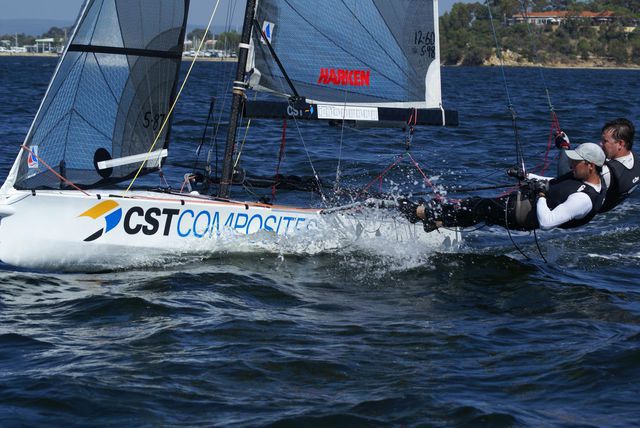 With only a couple of races to go for 2013 we arrived at the club with the promise of the first real Fremantle Doctor due.Although it didn't quite eventuate,there was more than enough to keep the fleet entertained.Our illustrious President saw enough in the forecast to bodly predict(and place beers) that ZERO would "beat the field by at least two minutes as he clearly has the fastest boat"(according to his own thorough tacktracker analysis).
So with 10 starters we headed off on our now famous Saturday Swan River Marathon, complete with keel boats and floating palaces in tow.
The first early surprise was the new found speed of our two penguins(sorry,i mean flag officers) on DIVINE INTERVENTION showing us the way.
As we arrived at Sanders for the first time CST and ZERO tried a couple of keel boat inspired match racing moves resulting in synchronised swimming all over the top mark which ensured chaos for the following boats.First around was QUICKSHIFT,closely followed by REACTOR and STEALTH.First downwind saw some some excellent close racing amongst all the fleet all within striking distance.
The trip up to Lucky bay saw many lead changes with REACTOR,CST.STEALTH and QUICKSHIFT all trading tacks and leading at some point.As we neared a naked Lucky Bay in December party pontoon of charter boats,I personally was having having trouble keeping Bennys mind on the job.(he thought they were cheering at him!)Round the top and it was CST, REACTOR,QUICKSHIFT,STEALTH,ZERO and DIVINE INTERVENTION as we started the downwind keelboat waltz.some survived, some were taken out by Stealth keel boat sailors.
Upon entering back into the bay, CST held a handy lead from REACTOR,QUICKSHIFT and ZERO, followed by DIVINE INTERVENTION (who appears to have been left out of the club results),
STEALTH, SHARKBAIT and PINK BITZ.
As for our illustrious President and his enlightening predictions, he was last seen ONE-WIRING to the finish, as one of our famous spectators commented, Ive had to turn my stopwatch off.
Ps don't forget container packing 8AM SHARP Sunday 15/12/13
Disclaimer: everything in this article is false and made up! send complaints to 0055 3825 633
30th of November 2013
Handicap Winner
Stealth
David Lugg & David Bramley
Sat 30th Nov our teams were confronted by a blustery Westery. As the last crew to arrive at the club the Stealth crew were surprised to be the only boat on the line when the gun went . Even before the boats had left the beach the wheels had fallen off for Stu and One Wire when they experienced gear failure on the beach.
Other casualties of the day were Lukey and Mike who were seen pulling a huge 'mono' up at Lucky when their experimental rudder foil arrangement ripped off. GE and Willow sailed well and showed that recent modifications to their rig have definitely improved their speed.
Also evident from the tracker data was that Tony , Matty and Pete and Justin were also very fast. Conditions were far from ideal for I14 sailing as the river was like a washing machine due to the shear number of 3ksb's, so boats that avoided swims were always going to be prominent in the results.
Stu and One wire eventually managed to cobble their boat back together and go sailing only to pitchpole, launching One wire who was last seen on a trajectory for another planet (some may say he was just heading home).
Pres
23rd of November 2013
Handicap Winner
More Grunt
Matty Harskamp & Lewis Glennister

Its been a while since I've written a race report, as it's the handicap winner that gets the job, so I'll do my best to remember how to do one justice as I tell you the tale of the Saturday that just passed. You may hope I don't win again after this one. ;)
We've been having some strange weather in the last few seasons, but none stranger than what has been hitting us the last two Saturdays in a row. In the old days, the start of the season was met with heavy seabreezes that smacked you in the face for a few months regularly, and tested your skills as well as your patience while you battled around the course. It wasn't til after Christmas that we would start getting the more mild seabreezes and regular Easterly drop outs in 40 degree heat.
This year, we have had two NorthWesterly/Westerly breezes come and say hello out of nowhere already.
Some say it is due to global warming and some say its Brad Devine sailing Javelins that has caused Mother Nature to be upset. Either way we've had some strange breezes but the good thing is its allowed some of us who are learning to sail together the chance to try and get our act together.
We had a small but high performance fleet assemble at PDSC for Saturdays race after the supposed abandonment of the scheduled race down at Rockingham. This will have disappointed the numerous car owners who loved to do burnouts for us on the corner near where we rigged up while playing their latest Kanye cd at full volume. I heard that the whole town shut down as they had nothing to do for the day. Oh well, we'll be back in Feb/ March so I'm sure they'll make up for it.
Once the race got underway, I was pleased to not be upside down as the start gun went for a change, so I didn't really take too much notice of who went where, as i was enjoying the view from the boat when right side up. I did see the incredibly fast CST with Stuey & Ben up ahead, streaking away from us towards Mounts Bay, and I think Nige took his Pink Bits more to the right or the middle of the course. Luke Devine had drafted in boat guru Brad Devine after a rumoured swift whack in a certain tender area during the week had made him see the light and had him return from his Javelin stint and get back to the fast boats. They were just above us as we headed for the first day buoy chasing CST, Zero and Quickshift who were somewhere up ahead.
We actually made it to the first mark just behind Pink Bits in around 5th place, but then decided it was too easy for everyone to round the buoy by itself, and decided to make the rounding a bit more difficult by tipping over right next to it. Luke & Brad got past, and set off under kite with the rest of us chasing.
Once we got around the corner, I realised that there was a very fast but stealthy looking boat coming up quickly behind us and I managed to say to Lewis, "Holy Sh1t, Luggy's behind us". I don't think I've had the pleasure of saying that very often so I enjoyed the occasion. The experienced Vances were also going like a rocket in their newly acquired orange machine Shark Bait, and Justin was keeping them honest in Low Profile.
We did the obligatory "dodge the cruisers tango" between king and the whatever that mark is called near Neddies back and forth for a while, resulting in the Vances getting past us easily, along with Stealth and Justin & Dan on Low Profile. The breeze had been up and down all day, so one minute we were smashing along, next minute we were just trying to keep moving, but it was a nice day so I couldn't complain.
I was told before the race that 60 or so cruisers would be sailing at Rocko and that's why we weren't going there. This gave me hope there wouldn't be too many bathtubs (cruisers) floating around causing havoc just by being slower than a valium snorting snail, while pointing higher than the fire danger indicator in 40 degrees, however, there were still enough to cause problems. One such incident caused the Vances to end up stuck in the mud on the bank near King buoy and that ended their race.
Meanwhile, CST was battling up front with Zero from what I hear, and Nige & Rhys were doing an awesome job in the wonderfully named Pink Bits. We were having a nice battle with the only other B3 in the fleet (Justin & Dan) and then Luke & Brad felt sorry for us so they joined in too. We finished the loops from King & that afore-mentioned unnamed mark, and headed for the finish line, only to put the thing on its side during a bad tack. It was then I thought our chances were gone, however, as we came into the bay chasing Low Profile and Carbon Comet 2, we managed to get just close enough to think we might have a chance of a sneaky finish.
Unfortunately for Justin & Dan, they managed to get caught in one of those terrible little pockets of no breeze that I thought only happened to me, and we did a bit of a Stephen Bradbury and slipped in ahead of them across the line for 7th . I felt a little guilty but that's racing sometimes.
In the end line honours went to CST (Stuey & Ben), with Zero second (Tony & Scotty), and Cam & Sam third in Quickshift. Honourable mentions to Luggy & Brams getting Stealth back to 4th and Nige & Rhys had a great race on Pink Bits in 5th.
Once I got onshore I heard some rumblings about some interesting Port & Starboard shenanigans that went on, but you'd have to ask Cam & Super Brams about that.
See you next week on the water. ;)
Madd
*This report is likely to be completely false or highly exaggerated..
2nd of November 2013
1st & Fastest
Quickshift Cam Elliot & Sam Batt
Saturday 2nd November.
12 boats turned up for Saturday's race, the first club heat . The conditions were a shifty east south east breeze ranging from 5 to 15 knots and with the temp in the low thirties made for a great day on the water.
A clean start by all with Ian and Drew nailing the pin end closest to the shore line and Tim and Greg Vance ( I'm not allowed to call them seniors anymore) at the boat end. We (Cam and Sam) were around the middle with Justin and Daniel just below and Luggy and Brams to weather. I was expecting the Lugg machine to roll us with the pace they showed at the end of last year but with some major mods to the rig and sails has closed the boat speed gap. Justin and Daniel were showing some great speed on the old b3 and were hard to shake.
It was case of who ever hit the left side the hardest was going to get to the top mark first.
Tony Carr and Scott Cole led the fleet at the top mark followed by Ian and Drew, Sean Carr and Footy in third, Cam and Sam and Dave Lugg and Brams shared 4th, Justin and Daniel had a great first leg rounding in fifth followed by Stu Sloss with Ben, Luke Divine and Mike Von Felton rounding at the same time, Matt Harscamp, Nigel and Ian, Tim and Greg Vance and GE and Willow bringing up the rear.
1st downwind leg saw a change in the direction of the breeze which reshuffled the deck. At the bottom Tony and Scotty were still in front followed by Cam and Sam and Ian and Drew in 3rd.
Up to King for the first time the breeze lightened of and was just as shifty as the first leg. Stu and Ben had the best leg to be first followed by Cam and Sam and Ian and Drew in 3rd. Luggy and Brams had the leg from hell and rounded nearly last.
Stu, Cam and Ian all rounded the bottom at the same time three boats wide with Tony Carr not far behind. Luke in 5th followed by Justin, Sean Carr, Luggy and the Vances , Nigel and GE fighting it out at the rear.
Another two times to king saw the lead change several times with the first 3-4 boats never far from each other.
At the top mark for the last time the breeze had filled in to a steady 15 knots. Cam and Sam had built up a handy lead up the last work and were first around Anderson and heading for a downwind finish. Ian and Drew were holding on to a small advantage over Tony Carr and Scott in 3rd. Stu Sloss and Ben in 4th with Luggy and Brams making a strong come back to round in 5th.
As the breeze filled in from behind Cam and Sam were lucky to get the win from a fast finishing Tony and Scott. Ian and Drew finished 3rd just managing to hold of Luggy and Brams in 4th.
Onewire.
6th of October 2013
Handicap Winner
Quickshift Cam Elliot & Sam Batt
11 I14's turned up for the first real race of the season and the conditions were slightly better than opening day.
10 -12 knot very shifty breeze and clear skies was the order of the day. Tony Carr decided to confuse everyone again by bringing both of his boats down and handing the older of the two to his son Sean. Sean is one of the young guns of the 49er fleet and was keen to show what he could do. So for a crew he enlisted the services of 5 time national champ and class legend Ian "footy" Furlong and yes, we were intimidated.
All the boys were keen to get going and it showed with a general recall for the first start which worked for us as our stopwatch broke and were a good 20 seconds late.
The second start got away without any problems with Luke Divine owning the pin but missing the split in the breeze. The boats at the windward end were a good 10-15 degrees higher than the pin
So Luke had to tack early and take a few sterns but was showing good early pace. At the first mark Luggy and Brams on Stealth took an early lead followed by Sean And Footy, Cam and Sam in 3rd and Tony Carr and Scott Cole in 4th with Ian Arbour and Drew Farrar in 5th. The first 5 boats would have been only 30 seconds apart.
The next leg to Sanders was a game of snakes and ladders with some massive gains to be had if you were in faze with the shifts. Also big loses if you weren't .Sean and Footy got the best out of the shifts to move into first with Cam and Sam having a good work to move into 2nd , Luggy and Brams down to 3rd, Tony and Scott 4th ,Ian and Drew in 5th. Stu and Steve were next on CST followed by Graham and Willow , Tim and Greg Vance were going well and went around at the same time with Luke and Michael von Felton , Nigel and Ian were next and Matt and fill in crew Tom bring up the rear after ripping the vang pulley out of the hull.
The Downwind leg had some big holes in it and Cam and Sam found one dropping 3 places to the next mark.
The long beat up to Lucky Bay was a little lighter but still shifty with the first 5 boats having a close race. It was odd looking upwind and seeing two Zero's sailing next to each other. Same paint job, same sail symbol. If it wasn't for the sun reflecting of Tony's bald head and Scotty's comb over flapping in the breeze you wouldn't have known who was who. Sean was still holding bragging rights over his dad but not by much after Tony and Scott made the biggest gains up the leg.
By the bottom mark Sean and Footy were hanging on to a very slender lead from Tony and Scotty with Ian and Drew moving into 3rd just in front of Luggy and Brams in 4th. Stu and Steve were just in front of Cam and Sam. Luke and Mike had two great legs to get a good gap over the senior Vances who went around the bottom at the same time as Graham and Andrew who were getting a bit hot so took a little dip allowing Nigel and Ian to catch right up.
The last time to Sanders was a ripper. Once again with the wind shifting around and the pressure constantly changing saw anyone of the top 4 boats looking at a win. Luggy and Brams played the shifts perfectly to go around in first with Tony and Scott 2nd, Ian and Drew 3rd ,Sean and Footy 4th, Cam and Sam moved past Stu and Steve into 5th and 6th respectively. Luke still held a good gap to the Vance's who had pulled out a big gap on Graham and Andrew with Nigel and Ian close behind.
Heading into the bay and the finishing line it was Luggy's and Bram's day sailing to a well deserved win. Tony and Scott just managed to get 2nd and Sean and Footy in 3rd.
Tony had a big smile on his face and Sean was last seen heading to the kitchen to do a weeks worth of dishes
It was very satisfying to see our Australian designed boats filling the top 4 places proving that our designers are still in the hunt for a world title in Geelong.
Onewire.
Opening Day
19th of October 2013
Winner Quickshift Cam Elliot & Sam Batt
The Steven Bradbury Classic
A wet and wild day greeted the fleet for the first race of the season which is nice if you are in a bar in Ibiza but bloody hard work out on the water. A good turnout with 10 boats including all the guns with exception of Brad and Footy who are still waiting for their boat to get back from Canada.
Dave Lugg's bionic arm has healed well and he was eager to get Stealth back on the water. Tony Carr and Scotty Cole rocked up with their brand new boat designed by Dave Lugg and looked a treat. With Tony's outlandish behaviour and creativity he decided to paint it exactly the same as his old boat and again called it Zero, no one really knows which boat he brings down each week because you can hardly tell the difference between the two. The senior Vance's were showing off their new purchase, Steve Walters old B5 though still coming to grips with the setup. Stu Sloss was back with Ben, Lukey had Michael Von Felton on board, Matt Harscamp has a new man mountain crew and Justin Walford with same B3 and crew as last year. Cam and Sam are back in Quickshift and Nigel Smith has a new crew in Ian Diamond and a B5 bought from VIC.
By the time the start came around the wind was 12 knots and gusting 25 in the rain squalls, which was just enough to shake the rust off everyone and force them to regain their skills quickly. Cam and Sam in Quickshift had the pin end with Justin and Tony Carr on Zero to weather. Stu and Ben on CST were up the line a bit and Dave and Brams on Stealth at the boat end and a tad late.
By the top mark Stealth was just ahead of CST followed by Quickshift with Zero having to go in just before the top mark with a snapped jib sheet. Justin and Daniel on Low Profile were in 4th and Nigel and Ian on Pink Bits in 5th.
The first reach down to the Brewery was a ripper with the first three boats getting the gust of the day and all hitting speeds in the high 21 knot range. Sammy told me 'that one ride made up for the whole of last year', it was that good.
At the bottom mark CST had a few issues getting their kite down and Brams on Stealth got so scared he decided to swan dive through the mainsail to get an early shower which left the door open for Quickshift to sail past into 1st before having a swim on the gybe at the bottom mark. Low Profile had some problems at the bottom and called it a day allowing Pink Bits to move into 2nd. Zero had made some running repairs to their jib sheet and re-joined the race 2 legs behind.
Quickshift was joined by Luke Devine in Carbon Comet 2 at the top mark after missing the first two legs of the race and had a good two sail reach across the river with the wind steadying to around 15-16 knots. Carbon Comet 2 had some issues up the next leg leaving Quickshift to sail the rest of the course alone. The boys on Zero must have been flying to catch up and pass Pink Bits on the second last leg and that's how the race finished. Some say it was a Steven Bradbury moment, others say it's like the hare and the tortoise or rotting fish rising to the top of the barrel. I like to think it's the cream has risen to the top.
1st – Quickshift – Cam and Sam
2nd – Zero – Tony and Scotty
3rd – Pink Bits – Nigel and Ian
Tack Tracker Data Click here
Handicap Winner
20th of April - WOW
Graeme Everett & Willow
I awoke Saturday morning, gazed out the window and commented "I feel a stiff one coming on This Afternoon. Michelle commented "that's nice, you haven't had a stiffy for quite some time".
On cue, the breeze was gusting to 15 knots around start time and stiffened to about 20 by mid race.
Lukey & Brams bolted from the start in World Championship form and were distant at the top mark. They then shifted into Stealth Mode and were never seen again.
A great race for second with Zero in control for most the race until the end when BD & Footy stole it from them.
Finger Bang (the action of pretending ones hand is a firearm) limped home for fourth with the purple boat single handedly sailed by Willow a close fifth.
Luke & Brams were last seen booking tickets for Toronto..............
Final results:
Stealth
Del Voca Vista
Zero
Finger Bang
WOW
Reactor
Quick shift
Jet
Trim Tummy


Handicap & $200 Dash for Cash Winner
13th of April - Trim Tummy
Nigel Smith & Matthew Hanrahan

Matt sailing his mudlark in the recent State Championships


Upstaged by a 10 Year Old
The weather forecast was terrible. Less than 10 knots variable with rain. It had been the same for some days so I told Rhys he could either go do something enjoyable or hang around in the rain waiting for the racing to be abandoned…
So I was surprised to arrive at the club on Saturday and find enough wind for even the assembled I14 sailors to want to race and no rain. Bugger number 1. Who could I get to crew? Russ Hanrahan offered a son and I assumed that it would be the oldest boy who I had seen sail a Bic very competently so I accepted only to find that he meant young Matthew, all of 10 years old and weighing all up at about 3 ounces! As the breeze built up to 15 knots, I wasn't feeling too confident it was a great idea.
How wrong was I.
The wind eased and we finally limped to the start line. Bugger number 2, got the spinnaker sheet under the Cunningham rope. "Here Matt", I said. "See if you can steer a straight course". He willingly obliged and it was then that I realized that we might not be in such poor shape after all. The young fellah could keep the boat sailing in a straight line! If he could do that, then I could pull the spinnaker up and take it down!
I fixed the lines and off we drifted through the start line. I had to re-learn parenting real fast because the only way you can keep a 10 year old motivated for over 2 ½ hours is to talk to him a lot! First he wanted to get onto the wire, then he got bored so I sent him forward to lounge around on the foredeck which was fun but he couldn't keep his hands out of the water. "Do you like jelly fish?" he asked as he bought a ripper out of the murky water. "Not right now", I answered. "Do you know about pressure? I want you to look for pressure". "I've heard about it but I don't really know what it is". So the lessons continued. When conversation died, "Where's the pressure now?" got things going again. On the long work up to King we also covered "knocking" and "lifting".
Meanwhile, the racing progressed at a snails pace. Brad and Footy in Del Boca Vista had some surprising speed in the light stuff and established a good break early. Then there were two white boats. One Low Profile with Justin and Daniel aboard and the other a Royston Vassey with a bunch of pirates aboard, GE and Willow. "I think we're third", announced my young crew at King but he was wrong. Stealth had snuck past and hoisted a purple kite in celebration on the Dockers loss to Essendon on Friday. Behind us, gasping for power in the light airs were Tony and Scott in Zero, Syd and Drew in Reactor and the Gentlemen Vances in Jet. As the competitors know only too well, the downwind legs were hero or zero (not of the Tony kind). If you were lucky or skilled enough to stay in pressure on the way to the leeward mark, you did really well, otherwise you went very slowly.
The Stealth lads managed to pull off a coup by plying the eastern bank and caught the white boats. Tony and Scott also managed to ease past Trim Tummy where I had discovered that a 10 year old could get weed and debris off the rudder without interrupting forward motion too much as long as it wasn't too deep. We could still see Brad's red spinnaker not too far ahead as he and Footy also had their fair share of weed problems.
Round the merry go round to Dolphin East we went again, the breeze wafting a little more to the south helping the work to Anderson. I had to remove a stubborn plastic bag from the fins myself on that leg. Matt tried but when all I could see of him were his feet, I thought it was probably too deep for him. With the bag gone, we could again keep pace with Tony.
The long run down to the finish saw huge changes of fortunes. Low Profile lucked out completely by trying the freeway side of the course. Trim Tummy managed to get past Zero but then both boats drifted together with Stealth near Dinghy bouy. At this stage, with the breeze fading to almost nothing, Brad and Footy managed to cross the line. The pirates were also just behind them but they didn't count after stealing their boat for the day. Zero and Stealth gybed into the Matilda Bay, which I thought was a pretty risky tactic. There must have been some poor confused breeze left there , however, and the move paid off; they finished in that order. Trim Tummy, Low Profile and Reactor finally sighed across the line afterwards before the whole river glassed off.
Matt, my little crewman for the day, is probably the youngest person in history to compete in an International 14 race. He couldn't believe his luck when he learned that, as a result of his efforts, we had won the $200 handicap Dash for Cash; his eyes bulged out of his head as willow handed over the smackeroos at the presentations. Hopefully he treated his family with the winnings!
He is one of many kids at the Dinghy club who are really great little sailors. Thanks to their parents and Tom Burt's efforts, the future of sailing at the club is assured.


Handicap Winner 9th of March - WOW
Graeme Everett & Willow
I haven't yet received a race report from team Wow but I think the track tracker data can shed some details on the close racing we had with many collisions on mark roundings.
State Championships kick off this weekend with one race Saturday and two on Sunday. For all those ex 14 sailors come down to the PDSC for free Pizza on Saturday night, temperature will be spot on for a few drinks on the balcony at the Dinghy Club.
Seeyou there
Footy


Handicap Winner 23rd Feb - Deep Purple
Phil & Andrew Vance

The day started on the beach with most people expecting the forecasted calm 10 knot south-west breeze, but by the time we were out racing around the corner the seabreeze graphs tell me it was gusting to 22knots.
I have absolutely no idea what happened at the start of the race. All I can report is that Deep Purple (Phil & myself) were about 10 seconds too early for the start and had to do a crash gybe around the pin. Unfortunately the over excited crew (me) decided to run through for the gybe regardless of the fact that Phil was still on trapeze bearing away for the gybe. Somehow we didn't swim, but we did give the rest of the fleet a good minute head start on us. Luckily, after chasing everyone's stern up to Sanders we managed to hook onto a ripper gust back downwind and caught up to the bulk of the pack and slipped past a few boats on the way. I reckon the downwind rides of the day were some of the quickest and bumpiest we've have had in a while!
CST Composites (Stuart & Ben) and Stealth (Luggy & Brams) sailed off comfortably into the distance and seemed to be way out in front all day.
Trim Tummy (Nigel & Rhys) deserve a special mention. I saw then trucking downwind from Lucky bay as if there were a thousand angry lions chasing them, with no sign of backing off at all.
All in all it was a challenging breeze with some heavy shifts and choppy water at times, but the rides downwind made up for it with plenty of excitement. The reports are Quickshift/TBA (Cam & Sam) even had a successful effort trying to front flip the boat over one of those 'friendly" swan river waves.
On a parting note I've got to thank Finger Bang (Dave & Michael) who were kind enough to have rudder troubles at Lucky bay and let us past, and Reactor (Ian & Drew) who stopped for a splash and a giggle half was down from Luck bay, also letting us past (despite then getting back past us on the next upwind leg which I thought was a bit rude…)
Final placing's were:
1) CST Composites (Stuart & Ben)
2) Stealth (Luggy & Brams)
3) Zero (Tony & Scott)
4) Reactor (Ian & Drew)
5) Deep Purple (Phil & Andrew)
Hope everyone is looking forward to the state championships kicking off in a few weeks. There are plenty of quick boats at the moment so it will be interesting racing guaranteed!
Andrew "Middle" Vance
Tack Tracker Data Click Here
Tack Tracker data from previous week Click Here


Handicap Winner 16th Feb - Low Profile
Justin Walford & Daniel Cappy
Photo Courtesy of D Lugg

After we were all given a lesson in rapid rigging procedures courtesy of Sid & Drew (and a last minute flight arrival), a solid fleet of 14s with some crews shuffled about headed to the start in a moderate west / south westerly. Looking like dropping out for awhile, the pleasant 10-12 knotter settled in and although probably not pleasing to some of the heavier combinations, was exactly what the Low Profile was looking for.
Completely buried at the start and with a couple of tacks to clear our air along with Stevie&Blakie, we gave the bulk of the fleet a clear head-start before a late but minor comeback at the first mark. The usual suspects minus BD - CST, Stealth, Sid (showing no signs of jetlag), WoW & a welcome return of the Lillis-mobile (not necessarily in that order) headed out of the bay to only minor increases (but a little more consistent) in the pressure.
A variety of angles were taken across to the south shore resulting in a series of positional changes before a couple of lucky tacks saw the Cam & Sam show (still seething from a bad nationals series and with a point to prove) take the lead. A good tight contest was occurring in the chasing pack and with kites set from Sanders, the first line of cruisers were encountered…
…After we righted the boat & re-set the kite, I had a slight chuckle to myself. The keel boat that hailed us at the last minute causing a crash-gybe-swim-curse manoeuvre had called starboard (despite being on Port) but still, I was happy enough to be in one piece and not 'too' far behind. Chocolates to boiled lollies (AKA WoW) had a similar experience & were just in front of us at the Foam rounding.
The gap to the front-runners however had somewhat widened and in conjunction with my dodgy eye-sight means that I can't report on too much of the real sailing going on ahead of us. We, however were locked in an intense battle with WoW & Nige and obviously the pressure took its toll as Wow headed to the west to play with the keelboats and wasn't seen again. Interestingly, as it's a $cash$ race next week, there may be some truth to the rumour they were working on their handicap…
The mid-fleet enjoyed the ride of the day out of Lucky Bay as we continued to play catch-up. More on our toes re: keelboats, the remainder of the race was somewhat less confrontational. At Brewery, we found ourselves with a bit of tacking practice with Lillis all the way to the finish although the high-pointing-mobile-white-chicanes put an end to any chance of moving further up the leaderboard. The final results were somewhat controversial as the official score-sheet shows BD with a credible second, despite being at work all day.
A great day out on the water all-round, onwards, upwards etc & looking forward to next weekend !
Tack Tracker data to come


Overall Winner 9th Feb - Stealth
David Lugg & David Bramley

RACE REPORT
A Long Time Between Drinks
On arrival at TCYC it was immediately apparent that Slossy with beancounter (Scotty Cole) on board were feeling cocky and were keen to put beers on the race. Never one to look a gift horse in the mouth Luggy and I accepted graciously.
The fleet of nine I14s made their way to the start in a light 10-12 kt SW breeze. Pre start, Syd and Changi who looked like they might be in training for a waterpolo event, wrestled with a batten problem on their side.
Stealth and Middle Vances (Andrew and Phil) were quick out of the blocks and arrived at 'I' within seconds of each other. Meanwhile Luke and Nigel went exploring the SW corner of the bay. Despite getting lost on our way to 'B', Stealth managed to round in front, closely followed by Senior Vances with everyone else breathing down our necks.
Syd and Changi having recovered from their earlier problems were first to the shore and with the Middle Vances showing a good turn of speed the race was on to get to I. Slossy and Beancounter after a lacklustre start were coming though strongly.
Final placings across the line were Stealth,CST,Deep Purple,Jet ,Reactor,Ventura,WOW,Carbon Comet and Trim Tummy.
Worth noting was that all boats finishing within 13 minutes of 1st place. Fastest speed for the day was 16.29kts by CST on the second downhill.
Our first win in the new boat, admittedly minus BD and Tony, but the beers were cold and tasted good.
Pres
Tack Tacker Data Click Here



Handicap Winner 2nd Feb - Deep Purple
Phil & Andrew Vance

RACE REPORT – Saturday 2nd Feb 2013
Tack Tracker data click here
After sweltering on the shore in the 37deg heat it a relieving to see the seabreeze slowly built to a steady 15knots by the time the start gun was fired.
CST Composites (Stu & Ben) had a great start to the day, having left a few critical components in a toolbox, and then leaving that tool box at home… As an afterthought, I'm sure Matt Harskamp (who usually steers the Mighty Grunt but was crewless that day) would have eagerly volunteered to hang off the top and the mast clinging onto the sidestays with his teeth all the way around the course. Why didn't anyone think of that? He could have done a much better job that a 8mm stainless bolt…
A few boats including Stealth (Luggy & Brams) and Deep Purple (Phil & Andrew) were seen swimming around fixing things on the way to the start line. Usually best to get those breakages out of the way before the start.
The race started & as you would expect from the newly crowned national champions Del Boca Vista (Brad & Footy) shot off from the start and held the lead all day
The guys onboard Stealth (Luggy and Brams) were right behind the leaders all the way around the course (is it just me, or does it seem like these guys have sailed the boat a handful of times and are a little too quick already?). Following them the guys on Zero (Tony & Scotty) and Reactor (Ian & Drew) were also showing very good speed and holding solid positions around the course.
There was a good mid fleet battle between Deep Purple (Phil & Andrew), Ventura (Steve & Blake), WOW (GE & Willow), and Jet (Tim & Greg). It was all very close racing until Blake forgot how to drop a spinnaker and Ventura sailed well past the bottom mark. The following lap WOW (GE & Willow) decided to have a rest and a bit of a splash in the water (they claim to have broken something causing a capsize, but who knows really).
Low Profile (Justin & Daniel) were also hanging around the pack and looked to be having a blast and Trim Tummy (Nigel & Rhys) came back to shore smiling after a fun race as usual.
Look forward to racing this upcoming weekend down in Rockingham with nice flat water & laughing at the bogans doing bog laps along the beach in their $30,000 Kingswood utes.
Andrew "Middle" Vance
Handicap Winner 8th Dec - Del Boca Vista
Brad Devine & Footy

We had a great fleet of 14 Skiffs, perhaps the largest this season we've seen on the water ready for another day of a mere 18+ Knots on the river, can't wait for when it starts blowing hard.
With no ferry to contend with this week on the line everyone managed to hit it at great speed only to start the drag race to see who can hit the sand bank first. Me, who being absolutely paranoid about being catapulted through another jib as we drive the centre board into the bank started with the early rant "I think it is about time we go". For one of the first time's Brad actually agreed with me and we tacked off on to the usual knock to go looking for some deeper water. Why is it you always get a great lift and then find yourself running out of water?
Stuart and Benny had crossed the fleet at this stage starting higher on the line which seems like the place to be these days. Tony and Scotty were right there as well as Cam & Sam as we all tried to avoid one another and the sandbank. The ferry wasn't an issue this weekend but the 3 party boats parked right in the way seemed to be the next problem. We had to take avoidance action on all of them as we tried to get to Matilda, then to make matters worse there was zero action on board any of them (the only time I do look around) With Stu and Tony going into the bay near Royal Perth we hung out on the south and managed to come in fast to Matilda before tacking into nothing and just waiting on the wing for some pressure.
Holding off Stu the drag race then began to Inner Dolphin which was more a beat than a reach but the boats were off on the flat water, there was nothing in it between Stu and ourselves with Tony close behind.
After navigating party boats, sand banks, and just crap gusty wind we finally got around the corner to be greeted by a flotilla of keel boats, big arse power boats and with the wind now nudging 20 Knots this was building to be another fun day on Melville water. We all sailed the predictable course, hitting the south shore and working our way up to Saunders. The order hadn't changed with ourselves leading, Stu just there with us and Tony not that far behind. Getting closer to Saunders Brad tacked on to a great layline and I started thinking ahead - good kite set here and we should be able to clear the chaos of keelboats quickly and get a jump on the fleet. That idea was short lived as a keelboat above us decided to duck an Etchell which was still 50 meters away, dragging us down with them and of course throwing a wind shadow over us sending us in backwards for what seemed like a couple minutes. Everything was very cool and calm though on board Del Boca Vista as we both sat in the water still hooked on waiting for the wind to return so we could do a water start…
Great, now not only can we not lay the mark but Stu and Tony have managed to get through us. Finally we rounded Saunders, but just before I passed the main back to Brad I watched Stu and Benny having a bit on as they were bearing away. With Tony and Scotty only a couple of meters in front of us the kite set was going to be fairly dicey - one decent gust at the wrong time and we would run down on top of the mighty Zero. Anyway, who cares I don't own the boat just get it up as the kite filled luckily Zero suddenly disappeared behind us. After gybing we had a great lane finally between the keelboats to find ourselves rounding foam buoy first.
Unfortunately Stu's boat decided it had had enough for another week and started de rigging itself again. This ended their day and the story was about much the same, dodging keelboats, getting a great lift but having to tack off it as you run out of water.
After having a great run from Lucky Bay we were back with our power/keel boat friends sending our poor skiffs into the air off every wave. This might look spectacular to everyone watching but it's not fun when you can't see what is going on, just waiting for the one wave to stop you in your tracks and send you around the front. As we all had a bit on from here onwards I didn't look around until we got into the finish line - number one I couldn't see from the salt water turning my eyes into the devil, and two, we just wanted to make sure we put the boat into the container the following day in one piece.
Most of the fleet made it around the course though and I think everyone at some stage had a great ride.
With all the boats travelling to Brisbane now packed away in the container, good luck to the WA team, hopefully we can go top three places this time.
To view the tack tracker data from the race please click this here.
Cheers
Footy
Handicap Winner 1st Dec - WOW
Graeme Everett & Willow
A fleet of 11 boat fronted for the CJW Marine trophies which started in about 15 knots.
Making his usual appearance, Captain Cook skippered by James Stirling made an outstanding pin end start to lead the fleet out of the bay. Although sailing much higher and faster than all others, he failed to correctly navigate the course and was disqualified.
With the breeze building to a steady 20 knots, CST COMPOSITES (Slossy & Ben) built a handy lead only to watch their boat slowly disintegrate.
DEL BOCA VISTA (BD & Ian) came through to finish first with CST Composites limping home to finish second.
Third place was a good battle between:
JET (Tim & Greg) – Third
WOW (GE & Willow) – Fourth
DEEP PURPLE (Phil & Andrew) - Fifth
GE

Handicap Winner 24th Nov - ZERO
Tony Carr & Scott Cole

Scotty's Race Report
Firstly let me apologise for you all having to read my ramblings yet again. The deal was that Tony would fix the boat after I broke it and I have to write the race reports if we manage to jag a win...
Everyone was happy to see Dave "The King" Von Felton (I'm told this is how we must now refer to him), back at the club. Clearly his future marriage is already agreeing with him, he looked fitter than ever! Welcome back great-man and congratulations on the engagement.
We knew we were going to be in for a big one this weekend with the forecast pushing over 20 knots. However, when rigging in the boat park it was anyone's guess as to which direction it was going to come from.
As time ticked away and we all saw the start boat setting up not far from the club, our worst fears were realised that we were going to have to battle the Easterly course.
Another solid fleet this week with 10 + boats hitting the start line, one of which literally did seem to hit the line – Cam/Sam, when the gun goes so should you! It's lucky you've got that brand spanking new red paint job that everyone could see, otherwise you might have been an i14 shish kebab on the end of several spinnaker poles!
It was only a short 200 meter work to the first day mark, which sadly was the only up-wind leg for the whole day. It was a coin toss between CST and Del Boca as to who rounded first, I think BD and Footy might have just gotten there. We were next with Syd/Drew, Von Felts, Cam/Sam and the rest of the fleet right up our arse.
After rounding Crawley, it was onto the second drag leg out to the cruiser's playground. The first big wind shift sent BD/Footy and Stu/Ben down towards the freeway, whilst the rest of us lucked it in and managed to make it to King without having to tack. Then it was time for everyone to put the foot down and fly towards Dolphin East. Geez I hate two-sail reaching on these things – is it just me or is the mainsheet never long enough...?
Brad and Footy showed a very rare display of being mere mortals when they got their sails wet after gybing at Dolphin East for the first time. $hit, now it's our turn to have a go and where the hell did all of these cruisers come from??? Phew, made it - DAMN so did Stu and Benny! Let's drag back to King.
Hit repeat twice on the above (not Del Boca swimming, I doubt we'll see that again...) and then you've got the fleet heading to Anderson. After rounding and putting the kite up for the first time, the running order went Del Boca, Zero, CST, Fingerbang (I love that name!), Reactor, Quickshift and I'm sorry but I was crapping myself that we weren't going to make it around Dinghy so I wasn't able to concentrate on who was next...
It was Groundhog Day yet again, with the Del Boca boys taking the bullet. Well done guys, the new rig looked fast and you showed us all that a swim doesn't mean the day is over.
A special shout out to Luggy and Brams, it was great to have you back down the club and congratulations on the arrival of the new weapon, aptly named Stealth. Can't wait to see what she can do when you've got her tuned and ready to race.
Before I sign off, I've been made aware of a debriefing discussion that took place in the boat park between "The King" and our great Commodore on what's acceptable 14 sailing. It was brought to everyone's attention that "The King" actually decided to do a granny at the bottom mark and he stood by his decision by pointing out to the Del Boca skipper that "at least he didn't swim". True to form, BD put "The King" back in his place by pointing out that he would rather swim on a gybe than do a granny. Amen!
SC


Handicap Winner 19th Nov - ZERO
Tony Carr & Scott Cole

Scotty's Race Report
Well we finally got an old-school Sou Wester that many of us bitched about her not showing her face for a long time (what is it that they say about being careful for what you wish for!).
What a day on the water we had. From 11 starters, 6 of us managed to limp over the finish line… It all started with a beautifully consistent breeze that was nudging 16 knots, with all boats hitting the line in synchronisation and at pace (one of the better starts for everyone I think). Cammy/Sam, Syd/Drew, all of the Vances were showing their pace early, it was a great work to the first mark. As we neared Matilda, Stuey and Ben surged forward and rounded just ahead of Del Boca and somehow we managed to slot in just behind them. There was certainly very little reaching to get around Inner Dolphin with all of the South that was blowing through, which from a crew's perspective is always appreciated!
Once out around the point – BANG! there she blows. Cunningham/vang/rig tension, who cares what it does just pull it in hard and de-power the f%&k out of these death machines…
First to pop the kite after Sanders was Stu/Ben, but as they hit the wall of cruisers on starboard they came unstuck and over they went. Brad and Footy took the lead with Tony and I almost taking Benny and Stu out whilst they were having a dip – At the time I thought my skipper had lost the plot waiting until the very last minute to gybe in 20+ knots, but then his brilliance shone through as he picked the lay like a dirty nose (from miles out might I add!) and we didn't have to contend with the cruisers on the way to Foam (this is why I'm just the monkey pulling the ropes and all of the important decisions are left to the master!). Syd/Drew were hot on our heels and Cam/Sam were hot on theirs.
After Foam the fleet really spread out and I'm sorry for not being able to report on how everyone fared from there – I couldn't see much with the 700 foot waves and 26,000 cruisers blocking my vision (well it seemed like those were the figures at the time…).
As we came closer to Lucky Bay, Brad and Footy decided to take on several Etchells (were you guys crazy, those buggers have really pointy bows!). They managed to manoeuvre their way just in front of two of them and then throw in a tack to round Lucky 1. I wasn't too sure what happened (because of the 700 foot waves and 26,000 cruisers again blocking my vision), but next think we saw was Del Boca being trampled by the Etchells. Tony thought we might have to go save them as we were a looooong way away from any of the rescue boats, I thought forget that we'll steal the lead and send them a postcard!!! Karma is a bitch, because as we went through our tack to round the mark, my cat like reflexes (more like an elephant on a trampoline) saw me hit the port gunnel/rack hard and it buckled under me. We made it through to the other side, and were able to round and set the kite. This was going to be a scary ride down the river, contending with all those cruisers and with no idea whether we had the strength in the port rack should we have to gybe. Solution, we decided not to and hope for the best…
Back to the boys in the ring with the Etchells. Del Boca actually managed to escape unscathed (well relatively I'm told, they may have lost some pinstriping – Oh no, not the bling!). They were up and flying two stings in no time, with CST rounding in third, Syd/Drew in forth and Cam/Sam just behind them in fifth – Nigel and Rhys I believe may have taken sixth place by this stage, correct me if I'm wrong boys?
The positions all stayed the same to Foam, clearly this was just a hang on for dear life ride and no one was game to try any funny business. I think we were the only ones to break formation when we let Brad and Footy sneak in front of us as we rounded Sanders for the last time and that was how the race was going to end for all that were left.
Congratulations to the Del Boca boys once again for taking line honours and also a big well done to everyone that braved the mighty Freo Doctor, regardless if you made it around the whole way. Get ready to do it all again, it's looking to be another ripper this weekend J
SC
Saturday 27th of October
The forecast wasn't looking good at all for a race and with 35 degrees and a light easterly the race was postponed.
The seabreeze began to fill in around 3pm and after a bit of a last minute scramble to get on the water we finally had a race and were quite surprised to have a good 10knots. For the first time this season all the top boats were out together and the question was who had the pace.
Stuart Sloss and Ben Lawrie racing their newly purchased B5 "CST Composites", Tony Carr & Scotty Cole on Zero have displayed great speed in lead up races and Brad Devine & Footy on Del Boca Vista were launching their Dinghy Club season.
There was a lot of south in the breeze which threw the tactics book out the door and turned into a straight speed race around the shortened course. Stuart managed to reach Matilda first and started aiming for foam buoy which gave Brad & Footy a great lane to round inner dolphin on the way to Lucky Bay. Matty & Pete didn't get far as they realised they were sinking after the start, he definitely wasn't the first this season to leave the bung in the trailer.
CST Composites and Del Boca Vista managed to pull away from the rest of the fleet with Zero and Cameron Elliot leading the chasing pack. After a one board run from Lucky bay to Foam Stuart pulled out a comfortable lead which he managed to hang onto to the finish.
There was great close battles going on in the middle of the fleet with Nigel and Rhys taking out the City Waters Perth $200.
The wash up from the day is that it is going to be a very competitive season with a number of quick boats still to turn up and Luggy to launch his new creation.
Footy
WA I14ft Skiff Open Day, 8th September 2012
Ever wanted to try sailing a I14, 8th of September at the Perth Dinghy Sailing Club is your chance to jump on a boat and see if you become hooked as well.
The I14 offers something for everyone, competitive racing for those that want to race against the best skiff sailors in the world and fantastic club racing with cash prizes on offer throughout the season for skippers and crews.
Interested Click here to find out more.
Notice:
WA 14 Association AGM - 16th of July 7:30 @ PDSC
7th Club Heat - PDSC Closing Day
Well another sailing season is done and dusted. Its amazing how fast time flies when you're having fun, err trying to have fun, ok watching everyone else sail past you.
I remember thinking in September 2011 that it wont be long til I'm signing my signature on the sign on sheet before a race, and now that's over for another 6 months.
Its been a good season for many of us, including racing the National Championships in Perth, which was a great learning experience for me and also great to see local champs Brad Devine & Ian Footy Furlong win on Del Boca Vista in a record 7 straight wins. its a pity the season has to end but after finishing the last two races in the cold & rain, I'm ready for a winter break.
The final race itself was another mixed bag of windshifts and strengths.
We had some pre-race shenanigans with the young Vances on Ventura having to put the boat in the piss at the start line while the supposedly tried to fix something on the boat that had either been rigged wrong or broken. Unfortunately, seeings as the breeze had dropped away so much by that time, they never really made the start line once they got it fixed.
Now the biggest stuff up of the season, (and really, the bloke should get fined or have his Captains license removed in many peoples opinion) was perpetrated by a charter boat captain who decided that he wanted to go right through our start line as the gun was about to go to start the race. Seriously, this guy was right on the start line trying to go through about 14 fourteens as the gun went and everyone was yelling at this guy and asking in the most polite of tones (as only a 14 sailor can) as to what in the F he thought he was doing????
After that start was abandoned, we finally got underway and did our best to float towards Matilda. We started out heading west as it seemed to favour that side of the course and the mighty More Grunt was looking famous there for a bit, with Brad & Footy pretty much level with us but further inside. The fleet had split in two, with some going west and others going east. I was thinking we might do well to the first mark until a major shift hit and all the guys who had gone east, came flying back on the opposite tack heading straight to the mark. Leading the charge was Courtenay "Lumberjack Love" Mahar who had stepped on to Justin Walford's new acquisition of the old Pro Lamps-Roofing 2000-Urban Space Capsule and were looking the goods. Tony Carr & Scott Cole on Zero were there, along with Sharkbait and the middle Vances on Deep Purple who were flying along.
We got round the corner and headed for Colonel Sanders and His Bucket Of Fried Chicken with Nigel and his stand in light weather crew on Trim Tummy just in front of us in the top ten and doing well. We managed to get lucky on a bit of breeze and scythed our way up to be 5th by Sanders right behind Brad & Footy as we set the kites. Downhill we dropped away from Brad & Footy and it was a case of trying to find any skerrick of breeze just to stay ahead of the chasing pack. Cam & Sam on Quickshift went way right going downhill and managed to make up some ground on us by the time we got to Foam.
After that we started the long trek to Brickies. When you're doing this leg in 15 knots plus its fairly lengthy, but in 5 knots its just ridiculous. Cam & Sam went way right looking for some Westerly influence, and we chased Brad & Footy along the left hoping for a nice lift up towards the mark through the middle. Nige was right on our hammer and moving well with Zero and Carbon Comet 2 not that far behind them. By the time we got to Brickies, Cam & Sam's little trip west had paid dividends and they were miles ahead of us, with Zero and Carbon Comet 2 getting past as well at the very top part of the mark. Once we started downhill it was all very close as we headed down towards Foam. Bullet & Reactor had joined the party by then so it was a fair pack that were involved in the run for Foam. Unfortunately we seem to be losing a lot of ground downhill at the moment in the light medium breezes, so no matter what we tried, we lost too many boats on the long downhill leg to Foam.
Thankfully, we had a shortened course signal at Foam so we all scrambled home for the finish line in a flat out drag race. We lost that too so we ended up at the back of the top ten. It was a tight race n the middle of the pack, but up front the win went to Sharkbait, followed by JW & Court, Del Doca Vista and Quickshift managed to sneak through to fourth on the line.
It wasn't that pleasant to be unrigging in the cold & rain, but the hot shower was very nice, and we got to play a few tunes with the old bouys at the club later that night to finish off the season on a good note. Congrats go to Brad & Footy on Del Boca Vista who won the Clubs, State & Australian championships in 2012; a magnificent effort. Thanks to Pete & all my fill in crews during the year for putting up with me. Thanks to Nigel, Brams, and anyone else from the class who helped with the racing & tack tracker stuff.
Lastly, but not least, thanks to everyone who has been reading my falsified accounts which have been loosely classed as sailing reports for the 2011/2012 season.
Have a great winter, I hope your footy team does well (but not as good as mine) and see you in the new season for a rumored fleet of somewhere near 20 International14's racing in the WA fleet.
See you next season*
Rock n rolla.
*These reports should be taken with a large grain of salt and possibly a few drinks, but only while stationary, and not in charge of heavy machinery..
6th Club Heat Resail
I14 State Championships 2012 - Round 2
Ok, so when I last reported we had finished races 2 & 3 in the i14 State Championships for 2012 after the first race being abandoned on the Saturday.
The following weekend we were set for races 4-7 to get it all run & won. Now as this happened a couple of weeks ago and I have been rolling in the depths of rock n roll depravity since then, my memory is probably not the greatest, so don't hold it against me.
I had to call in a favour as my crew was once again unavailable due to the extraordinary amount of people lining up to be jettisoned into social Siberia (getting married) this year, so I was lucky enough to have Feisty Phil Vance on board with me for Saturday's Heat 4 & 5. We decided to try a few things with the boat (as all skippers do) just to see how it would go. After a mediocre start we cranked the shit out of the vang just to see what would happen and luckily there was no loud bangs as we got going. The course was a Matilda-Sanders-Foam-Sanders-Finish affair I think, but in the light-medium breeze, it was taking its fair amount of time to get completed.
The usual subjects were up front with Brad & Footy on Del Boca Vista, Sharkbait, Zero, Reactor & Bullet all there or there abouts. The young Vances were back on Ventura and revelling in the light medium conditions along with the Von Feltens and the delightfully and appropriately named Fingerbang. Pistol Pete was once again onboard with Billy D and Phil & I found ourselves battling with them and Jet at the tail end of the top ten. I know there were some changing of positions uphill & then downhill between us all, but Phil & I scored the ultimate revenge on the run to the finish line. Jet had come past us under kite heading for the finish line and having a bit of extra weight onboard they were able to hold a higher line with the kite up and head straight for the finish. Phil and I were a fair bit lighter so as the breeze had strengthened a bit on that last run to the line, we were getting blown down below the pin end and didn't t think we would make it. We decided to hold the kite as far as we could before dropping it and as we got closer to the line we found the breeze dropped quite a bit, allowing us to start to just make the pin.
Luckily, the finish line was skewed in such a way so that the pin end was closer than the boat, and we managed to slide underneath Jet and get through the line and steal 11th place. Now I realize it wasn't for the win, but you gotta take every place you can get in a competitive fleet like the WA 14's, so we were stoked to get one back on Jet who has become to Grunt like the crocodile that follows Capt Hook around in the old Peter Pan story, waiting to chew our arms off.
Brad & Footy won the race on Del Boca Vista, with Tony Carr & Scott Cole on Zero in second, and Steve Walters & Ben Lawrie on Sharkbait in third.
Race five was pretty much the same for Phil & I except that after getting a good start we had some kite problems which dropped us back into the clutches of Jet & Billy D & Pistol Pete on Joanne Ten Million. Then on the second time up to Sanders, Billy just put on the afterburners and went from 50 below us & Jet on the same tack, to 300 feet in front and crossing us. It was crazy. I asked Billy after the race what he had done to make it go all of a sudden and his response was " I wish I knew" haha. I think he might be foxing, but I wont know til we race next.
Race five was won by Brad & Footy on Del Boca, with Sharkbait second and Zero third.
I didn't get to see Sundays races as I was still suffering the after effects of a cold/flu thing and couldn't make it down, but the results were pretty much the same. Brad & Footy won the last two heats on Del Boca Vista making it a clean sweep for them again, just like the nationals, with Sharkbait getting second in both races, and Zero getting third in heat 6, and Luke & Willo on Carbon Comet 2 getting third in the last.
The final results were Brad & Footy on Del Boca Vista in first, with Steve Walters & Ben Lawrie on Sharkbait in second, and Tony Carr & Scott Cole in third on Zero.
Well done to everyone who raced and I'll see you in two weeks time for the final race of the season.*
Rock n Rolla
* I dont remember much of the racing....
WA I14ft Skiff State Titles 2012 Results

Sail No

Boat Name

Skipper

Crew

Series Score

Place

Race

7

Race

6

Race

5

Race

4

Race

3

Race

2

Race

1

661

Del Boca Vista

Brad Devine

Ian Furlong

5

1

[1]

1

1

1

1

1

A

654

Shark Bait

Steve Walters

Ben Lawrie

13

2

2

2

[4]

3

3

3

B

80

Zero

Tony Carr

Scott Cole

19

3

[17]

F

3

6

2

6

2

A

14

Bullet

David Lugg

Dave Bramley

19

4

[7]

6

2

5

2

4

N

639

Reactor

Ian Arber

Drew Farrar

25

5

6

5

5

4

5

[6]

D

647

Quickshift

Cam Elliot

Sam Batt

28

6

5

4

7

[9]

7

5

O

662

Fastacraft

Luke Devine

Andrew Wilson

35

7

3

[17]

OCS

9

10

4

9

N

631

Ventura

Steve Vance

Blake Vance

40

8

8

8

[10]

7

9

8

E

637

Royston Vasey

Graeme Lillis

Justin Walford

45

9

17

F

9

8

8

8

12

D

602

Finger Bang

David Von Felton

Michael Von Felton

47

10

4

[17]

OCS

3

6

17

S

17

S

400

Joanne

Bill Devine

Pistol Pete

63

11

[17]

F

10

11

14

13

15

624

Jet

Tim Vance

Greg Vance

65

12

17

S

[17]

S

12

12

11

13

621

Trim Tummy

Nigel Smith

Rhys Garton

66

13

17

F

7

[17]

F

13

15

14

612

Grunt

Matt Harskamp

Peter Kneale

66

14

17

S

[17]

S

13

11

14

11

627

Deep Purple

Phil Vance

Andrew Vance

70

15

17

S

17

S

17

S

[17]

S

12

7

626

Snatch

Courtney Mahar

Cain Mcvee

71

16

17

S

17

S

17

S

[17]

S

10

10
(Ties: S=Score R=Race B= Bettered. Penalties: A=ARB B=BFD C=DNC D=DNE E=ESP F=DNF G=RDG L=Late Entrant M=DGM N=ENP O=OCS P=Protest Q=DSQ R=RAF S=DNS U=DUT V=AVG X=EXC Z=ZFP Y=SCP #=NoData [x.y]=Discarded)
International 14 State Championships Round 1- Heats 1,2 & 3 (24th&25th of March)
Saturday saw the start of the State Championships for the International 14's for 2012 with heat 1 being held at PDSC. The forecast was for warmish weather with not much breeze and that's exactly what we got. It was Easterly for most of the day at probably 0-5 knots which wasn't most people's idea of good weather, but we got a start underway and headed out towards the day buoy chasing the other fleets that had started their normal club races ahead of us.
There's not really much to tell about Saturdays race except that it consisted of almost only upwind legs due to the breeze changing its mind constantly. The other most important thing to know is that the mighty More Grunt was actually in the lead for a brief but glorious 2 minutes, until Brad & Footy decided enough was enough and took the lead back from us. After that it was a case of floating around in all directions to no avail, with the race eventually being called off due to lack of wind, or was it interest? I tried to push for us to check the Tack Tracker positions at the time of cancellation of the race so I could score a decent finish, but my suggestion was laughed at by everyone other than me. Oh well, if you don't ask you don't get. There is one more thing to know, and that is that Cammmy One Wire started the race without putting his bung in the boat, and therefore had to retire after the start as he was taking water. He now owes a bell ring apparently. :)
Sunday was a bit better with Heats 2 & 3 being run in a light to medium seabreeze that came in nice and early.
We headed out to the start line which was over towards Foam buoy in the middle of the river, and got underway. The course was a bit of an abbreviated normal PDSC Course 1 where we did the Sanders, Foam, Brickies part of the course with a mid river finish at the start boat so we could get set and go again for Heat 2. Now normally, that wouldn't take too long, but in the conditions which were light & changeable, it seemed to take ages.
There were plenty of good boats around as you would imagine for the States, so once we got going, it was the usual suspects of Brad & Footy on Del Boca Vista and Tony Carr & Scott Cole onboard Zero leading the way. Billy D had drafted in Pistol Pete as his crew aboard Josephine Ten Million for the day and was looking good, with Mike Von Felten subbing for Andy Vance on Deep Purple with fiesty Phil Vance in charge. Snatch had decided to turn up today as he must of had a leave pass, and it was good to see JW & Lillis back racing in the mighty Royston Vasey. We also finally got to see the young Vances in Ventura back with a new boom, and the conditions were perfect for them.
We battled our way around the course, swapping places with Snatch & Jet a few times, while Bullet, Reactor, Sharkbait and a gaggle of Vances both young and medium, chased the two leaders. I remember a lot of downhill battles and uphill battles going on, with Del Boca Vista taking the win, Zero second and Sharkbait taking third. We tried a bit of a kamikaze maneuver on the finish line under kite to see if we could just get the nose in front of Snatch on the line but all we did was have a great big stack and go in backwards once we crossed the line. Still, you gotta try these things otherwise you may as well be not racing.
Heat 3 was greeted with a very skewed start line due to a sudden shift in wind direction with almost no-one getting across the line on the normal starboard heading, that meant a few interesting tactics and tacks going on, with most of us deciding to tack on to port to get across the line. Apparently, Cam on Quickshift decided to go for a start and when realised he couldn't make it decided to take on to port blocking the fleet, Brad on Del Boca Vista went into a crash gybe just missing his transom but their rigs got caught up together. This meant that it was someone else's turn to lead the pack as we all headed for Brickies in a shortened course. I can't remember who was in front, as I was trying to find some decent breeze in light conditions but I remember Pete saying that Brad was mid pack for a change. We had no pace whatsoever in the second heat so I could only watch as the rest of the fleet kicked our ass. Bullet was doing very well in the second heat, and were second around the top mark, with Sharkbait and Luke & Willow on Carbon Comet 2 up there as well. Zero was a bit further back in this one.
We only had to go to Brickies and then set the kite down to the finish line, but even with having to go back at the start, Brad & Footy ended up winning the race. They say that boatspeed makes you famous, and if that's the case, then Del Boca is a bloody celebrity. Bullet was second and Sharkbait was third. We were second last for some reason I am not quite aware of (apart from the hack at the tiller), but that's the beauty of racing, you get changeable conditions which you have to deal with in order to get the best out of your boat and be competitive. As they say some days are diamonds, some days are crap, or something to that effect. Still, I'd rather be sailing 14's than anything else, and if you heard the amount of good natured shit that Cam copped on Sunday after leaving his bung out the day before, you'd understand that even a bad day on the water, is better than a good day in the office when you gets some laughs and some good rides.
Next weekend is Round 2 of the State Championships, with all the remaining heats up for grabs. Hope to see you all there.
Rock n Rolla*
This report is a carefully blended paste of accuracy and fallacy, rolled in to one creamy bar with a chocolate coated cover...
Sat 17th March
Race Report - Sat 10th March
After reportedly many shenanigans taking place in Bunbury the previous week, the 14's returned to PDSC for Club Heat 5.
The forecast was for a complete scorcher of a day, the kind of day I like but everyone else seems to loathe. It was 39 degrees max temp with the breeze expected to be a moderate South Westerly. I was pretty skeptical of there being any breeze at all because normally, when the forecast is for high 30's max temperature, we don't usually see much breeze. However, to my surprise the sea breeze did start to come in early and give us something to work with.
We had a decent size fleet of approximately 14 boats or so line up at the start, with some interesting jockeying for position taking place all the way down the line. We opted for a boat end start as there was a fair amount of West in the breeze, and as we were sitting there slowly creeping up to the line, our relatively new skipper to the fleet in the form of Pistol Pete decided to do what could mostly be described as pushing your luck, by trying to squeeze in between the boat and the rest of us who were lined up waiting to start. I'm not sure he'd get away with that at Nats but we weren't that fussed seeings as it was a club heat and its just great to have him & the formerly named Yeah Baby out on the water.
Once the gun went we were struggling for pace with the breeze being up & down more often than a hooker on pay day, particularly seeings as we were in Bastard Bay for the first leg to Matlida. The usual suspects were up the front, including the Von Feltens on the new & aptly named Fingerbang. It was nice to see a former regular (& owner of the mighty LoveBone) Thommo back in the fleet and crewing for Billy D on Josephine Ten Million. Thommo assures me he will be back soon with LoveBone in tow and there are rumours of some surprise crew appearances in the wings, but we'll have to wait and see on that one. Hopefully he can get back on the water on a more regular basis soon. Brad & Footy led around the point on Del Boca Vista, with Bullet, Carbon Comet 2, Fingerbang, Reactor and Quickshift all up there. We were struggling for boatspeed & height on More Grunt so we just decided to sail our own race and see what happened. I knew somewhere back there Jet was chasing us because before we went out Greggy V had told me they were out to beat us this week. Wow had GE & Nige on board, teaming up for the race, so it was good to see the purple headed monster in the fleet. Courtney "Lumberjack Love" Mahar was a no-show which was a pity because the conditions would of suited the Snatch machine down to the ground. The middle Vances on Deep Purple continued the Andy Vance steering experiment and were right in the mix with an amazing amount of upwind height.
Brad & Footy stayed in front but the fleet was reasonably tight in the conditions. We could see the front few boats not too far ahead as they round the mark and went for the kite. By this time Jet had hunted us down and were a lil bit close for my liking. On the downwind leg, we got passed by both sets of Vances which was disappointing as the breeze was hard to find. Then we pulled a swifty right at the bottom mark, sailing underneath & right past both sets of Vances to get the places back and send the girls on the spectator boats into fits of lust & envy. After satisfying the ladies with just a smile & a wink, we set about the task of making the long trek from Foam up to Brickies. Jet was hanging around like one of those bad smells that happen from time to time and no matter how much you wave your arms discreetly, if anyone happened into your vicinity at the time, you'd be caught out as the offender. We just could not get rid of them no matter what we did. They managed to get in front of us right at Brickies, and we chased them & Cam and Sam in Quickshift down hill back to Foam. I think from memory we got back in front but then it was very close again on the way back to Colonel Sanders & his bucket of Fried Chicken. Pistol Pete on the formerly names Yeah Baby was sailing very well and had too much speed for us to cope with as he got passed going to Sanders. We tried to chase him & Jet back into the bay, but then Cam & us on More Grunt decided to do a bit of synchronized stacking with our kites up. In our case I put the hook on, then got put off balance by a gust and then the hook wasn't there when I lent out to take up the slack on the trapeze. I remember hanging over the rack by my legs with my head getting dragged thru the water, thinking "its okay, I got this", but then when the rig went in backwards over my head I knew my superhuman good looks weren't gonna be enough this time. Once we got back up it was a tight chase into the bay with Quickshift but they beat us across the line (along with a fair bit of the rest of the fleet).
Apparently, there was a bit of controversy when Fingerbang had to disqualify themselves from the race, after going around Quarry instead of Brewery while in second place. Too much fingerbanging going on and not enough reading of the course marks I'd say.
The final placings were Brad & Footy on Del Boca Vista in first, second was Benny & Steve on Sharkbait, with the Luggmaster & SuperBrams on Bullet in third. Carbon Comet 2 & Reactor had sailed well to be reasonably close to the front all day. Greg & Timmy Vance on Jet had achieved their objective in beating us on More Grunt, and seemed happy for a change.
Not sure what's up this week, but I have no crew and will be playing a footy scratch match under lights at Kingsway in the evening, so I wont be sailing. I hear the 3 of a Kind is on Sunday at MBSC, so maybe I can get to that. Good luck to those who race.
See you out there!*
Rock N Rolla
*This report is based on dimming memory and a brain far too old to be...now what was I doing again????
Sat 25th of Feb
After a lengthy break of over a month due to illness, I was keen to get back out on the water and get amongst it.
When I got to the club on Saturday I found there had been a fair bit of crew shuffling going on as we have a situation at the moment where we have plenty of good boats with skippers, but we are short on crews. Hopefully something can be done soon to rectify the situation as if we can get all boats fully crewed and on the water, we will have a sensational fleet of close to 20 boats racing. So we had The Super Devines of Brad & Billy teaming up again on Billy's boat Joanne Ten Thousand, Footy was stand in crew on Trim Tummy with Nige, Cainos was jumping on board the mighty Snatch mobile with Courtney "Lumberjack Love" Mahar and we had a surprise, but welcome cameo from Matty Jahn of 49er and "nude Mounts Bay Sailing Club event" streaker fame, who was sailing with Pistol Pete on the previously named Yeah Baby.
The breeze wasn't too bad, but it was up and down between about 8 & 15 knots and very shifty. It was shiftier than the dog with the shifty eyes in that Simpsons episode of which name escapes me. Anyway, back to the racing and at the start everyone seemed to be a little far back with a minute to go, except for us on the mighty More Grunt, and Pistol & Matty up at the pin end. As the gun went we got away to a great start with Tony Carr right on our hammer and the rest of the fleet trailing behind. That is except for Matty & Pistol who went the pin end and crossed pretty much the entire fleet from what I could see. Now we were looking great to be in a good spot up the front by the first mark, and then our good ole friend Capt Cook Cruises, decided he'd do his usual trick of coming right through the middle of the course. Now we're used to that, but unfortunately we just got caught the wrong side of him and a bunch of Signets with kite's coming downhill who had right of way (boy does time go slow when you're waiting for Signets to come past, even under kite hehe).
We managed to get around Matlida in 5th chasing Tony Carr, Footy & Nige who were on fire up the front and I think Luke & Willow were there as well with Cam & Sam Batt on Quickshift and Luggy & Super Brams on Bullet.
Once we got round the corner things got really sloppy. There wasn't a lot of breeze, and it got fairly lumpy (for the Swan) so it was a bit of a struggle to get the boat up and powering after the nice flat water of Bastard Bay. Footy and Nige were powering away in front of us and looking good. Meanwhile, Luke & Willow hit the secret height & speed button (the big red one) on their boat and started pointing like a cruiser up towards Nedlands while the best we could do was aim for somewhere just above Robins. Snatch was making a run from way back and powering thru the midfleet, with Jet just in front of them. Billy & Brad were lurking mysteriously somewhere around us as well. We got round Colonel Sanders & His Bucket Fried Chicken right behind Snatch who had managed to sneak in front of us and we went the opposite gybe to avoid going right up the clacker of a green & white bathtub with sails that had rounded the same mark. Pistol & Matty Jahn went straight past us on the opposite tack under kite, while we chased Nige & Footy and the others in front. On the way down to foam, the super sneaky Super Devines managed to get a good burst of breeze and just sneak in front of us at the mark (see, I told you they were sneaky). We had a nice little drag race towards the South Perth side of the river and managed to just get back past before tacking to start the long climb up to Brickies. The fleet was reasonably close from what we could see in the varying conditions. Seriously, this breeze was swinging more then The Glen Miller Band did in its heyday. On the way to Brickies we battled with Billy & Brad, swapping places a few times til they made a better decision on breeze than us and we lost out about 300 metres by going for the southern shore. Along the way we managed to get past Footy & Nige who had started to drift back a little due to the light patches here and there. Unfortunately, it wasn't long after that they disappeared completely as the mast snapped right at one of the goosenecks. Apparently Footy pulled the vang to max and after a while the mast just went.
We hit Brickies and set the kite, hoping for some good rides, but the breeze was fairly light and inconsistent. Maybe it was just because after getting smashed in 30 knots every day at the Nats, a normal breeze seems light now. Either way we were chasing the Super Devines again downhill and managed to get fairly close to them with Jet making up ground and the middle Vances on Deep Purple right behind them. Snatch was powering away from us and the guys up the front were all battling for the lead. I heard that Bullet had managed to get in front on the way into the bay, but we were too busy chasing boats to notice. We did have some fun trying to avoid Pistol Pete & Matty Jahn who managed to stack it going uphill right in front of where we were traveling under spinnaker, but thats the fun of racing.
We got back into the bay after having lost the Super Devines on the way back under kite. They must of had a swim as we didn't see them after they gybed away to the right near Nedlands. Speaking of swims, Snatch had 3 swims in this race and still managed to beat us to 5th place, without us capsizing once. That boat is seriously fast. There must be some underhanded Lumberjack goings on happening there, a bit like in the Wacky Races cartoons they used to show on a Saturday years ago. maybe he has and underwater propeller made of wood that pops out and he pedals it really fast to make it go? I dunno, but its a bit of a worry.
In the end, Quickshift won the race, followed by Zero and Carbon Comet in 3rd. I thought we'd had a great race and done really well til I thought about the boats that weren't racing who are normally in front of us. I counted at least 4!!
It just goes to show how competitive the WA fleet is, which I think is a good thing.
Next week a few crew are in Bunbury for the long weekend, and I'm in the recording studio. See you on the water soon!
Rock N Rolla*
* This report is likely to have been tainted by the outcome of the Rudd V Gillard grudge match...
Sat 18th of Feb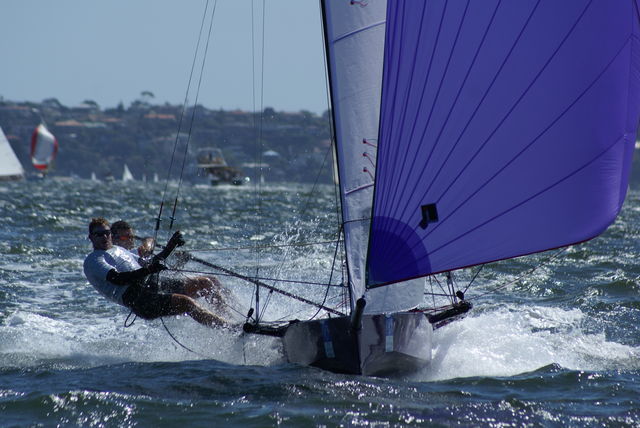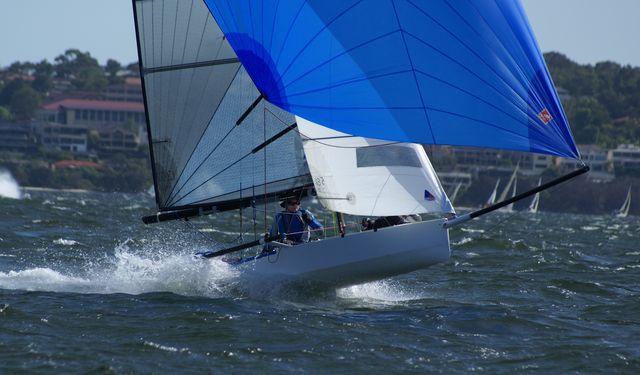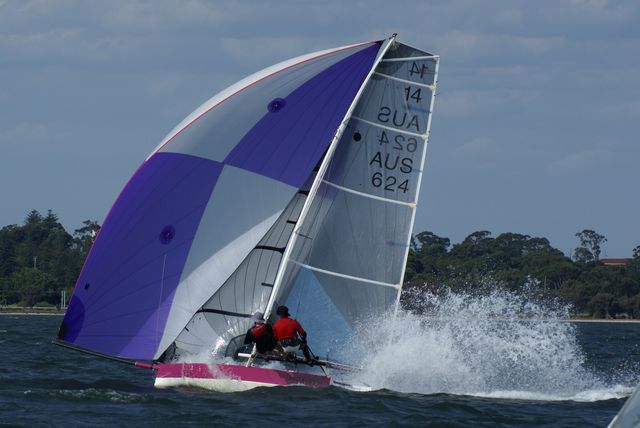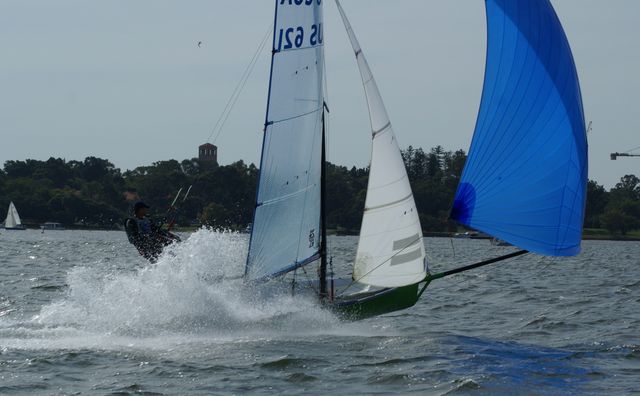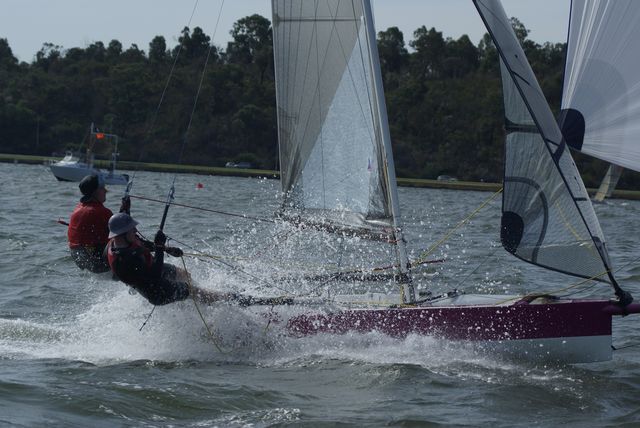 Sat 4th of Feb Race Report:
Bloody windy!! 37.3Knt Registered on the Start Boat.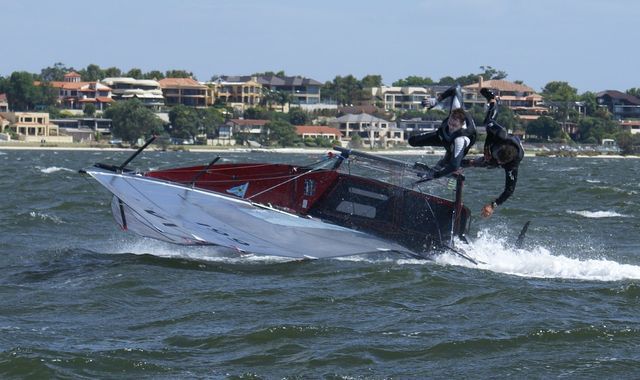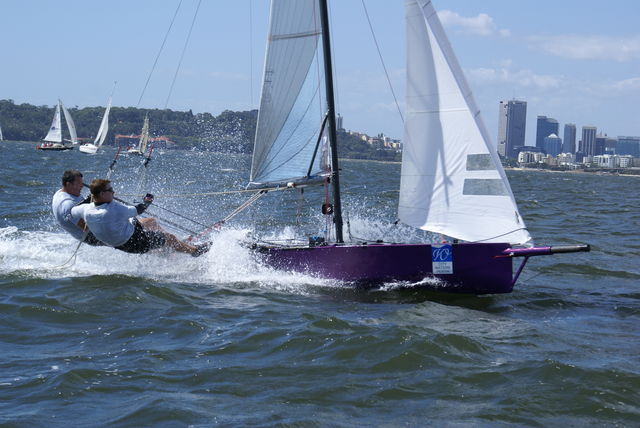 Sat 28th of Jan Tack Tracker info:
Sat 21st of Jan-Race Report:
First race back at PDSC after the end of the nationals and it was a nice relaxing 8-13 knots coming from the West Sou-West. I was very pleased to see it less than 25 knots for a change after a full on nationals carnival, but not so pleased to learn that it was a handicap start. I understand the point of a handicap start for some, but I find it hard to see how you're really travelling for boat speed when you're sailing around by yourself.
As it was, Nigel and his stand in crew on Trim Tummy were first off at about 28 minutes, we were next around 22 and then Billy D & Brad Devine (who had teamed up for some kind of Super Devine effort on Billy's boat) were about a minute behind us. I don't know the exact start timings for the rest of the fleet, but I do know that Court & Mike Von Felten were somewhere back on 6 minutes or so because they'd chosen to sail DVF Carpentry while Snatch was awaiting repairs to gear etc. Reactor & Carbon Comet were also somewhere back there in the mix as well, along with cam & Pistol Pete on Quickshift.
The course that was chosen for the race was the worlds longest race, and I don't just mean that as an exaggeration, I looked it up in the dictionary and under Worlds Longest I14 Race it says "Course 4-PDSC". Seriously, this course was so long, if it had a nickname, it would of been "Donkey". If we had the Tack Trackers on, it would of looked like a 5 year old had been let loose with a crayon on a map of the Swan.
Anyway, Nige set off from the club start, got to Crawley and then set the kite to Foam bout before starting the upwind leg to Armstrong. By the time we got going Nige was around the corner, and then we had the Super Devines on our tail about a minute back. I must say it was an interesting start to go 100 metres on a reach and then bang the kite up. Once we got to Foam, we had a look for Nige to try and work out where the hell Armstrong was because we have probly used that mark once this year and I don't remember using it last year. Luckily, Nige knows where he's going and so we set about trying to catch him while not losing any ground to the Super Devines on Joanne 10 Million. There were heaps of big fat mobile chicanes (cruisers) floating about on the river too, so that was making it nice and interesting. You just gotta love trying to get around those big bastard things while they point the ring out of the wind, going nowhere and stuffing up the surrounding wind patterns for everyone.
We thought we were gaining on Nige & Trim Tummy but once he got round the top mark he got the kite up and got away. Billy & Brad were seemingly closing in a bit on us so I was relieved to get round the top mark and get the kite up ourselves so we could try to get some space between us on the way to Foam. Luckily we managed to get a decent bit of breeze and keep the distance between us & the Super Devines while not losing ground on Trim Tummy. Next it was the long trek up to Brickies. Being a WSW breeze, the angles of the port and starboard tacks were very different from what we're used to when we're doing the standard SW course, and it was pretty shifty too. Nige put the hammer down on the way up to Brickies and we did our best to catch him, with the Super Devines in hot pursuit. We also got to play chicken with a cruiser that we could not seem to get away from as they were pointing directly upwind without losing too much ground, and there wasn't much breeze around for us to maximize our performance advantage in a straight line. We all got round Brickies and set the kite for the longest kite leg ever, all the way down to Addison. On the way we saw Reactor, Quickshift, Carbon Comet all moving nicely in the light to medium breeze. The cruiser traffic was pretty insane on that leg. There was one section where we were so low on the wires and hiking so hard to try to get above this massive fridge with sails, that we couldn't even see if we were gonna get past it. We just gritted our teeth, held on and waited for the crunching sound. Luckily we just got past. On the way down we saw McLovin teaching his crew how to swim as he was sailing by himself with his crew doing overarm trying to get back on the boat. We thought it was very nice of Dan to help him out with his fitness like that.
So this is how it went for most of the day. Everyone was chasing everyone else, hoping to make some ground, while not losing any to the guy behind. Once we got into the bay after Robins, everything changed. We'd managed to gain ground on Trim Tummy coming into the bay on our way to Poplar, and then close just that little more when they got to Crawley to start the last downwind leg. Unfortunately for Nige, things went a bit pear-shaped on that downwind leg as he tried to avoid the current menace that is blighting our river at the moment....crab pots!! It is no joke that they are a disgrace with the amount of them and the positions they are put in. Something needs to be done in my opinion as they are dangerous and are gear wreckers.
Nige hit the piss not far from Crawley, and we came past with the kite up blasting into the lead with perfectly styled hair and all the ladies on the spectator boats sighing in lust. After thrilling the ladies just by being ourselves, we got back to the task of trying to win the race. We managed to get round Brewery with a decent lead on the Super Devines, and then tried to work out what the wind was gonna do in Bastard Bay. Unfortunately, as those of us know who sail in Bastard Bay on a regular basis, the wind in there can be tricky at the best of times, that is unless of course you are Brad Devine. After calling up on the wind gods every day for favourable conditions to help him win the nationals a few weeks back, Brad was at it again, calling on them for his own personal line of breeze to try and get past us for the win on the line. Luckily the wind gods decided to help us mere mortals out with a slight gust and we managed to super style it across the line with Brad trash talking us the whole way. I think he was joking, but I'm not entirely sure, however it does give me a fair idea of where the wind is coming from on his boats. ;)
We managed to grab the win on More Grunt, With Brad & Billy (aka the Super Devines) in second on Joanne 10 Million, and I think Reactor nabbed Nige for third. Reactor also recorded the fastest time overall which shows how well they are travelling.
I have to say thanks to DD for giving me his harness after the nationals when mine broke. That was the first time I've used it and it was nice to not feel like you've been doing situps for 2 hours, not to mention the great mans skill must have transferred across to help us get the win.
Next week it should all be back to normal, so I'm looking forward to a big fleet turning up.
See you out there!*
Rock N Rolla
*There are no exaggerations contained in this report whatsoever..
For all I14 Nationals News and Results please click on the Regattas tab.
REUNIONS:
H28 Yachts : People who have been asscoiated with H28s in WA are invited to attend a Wooden Boat Rally at South Perth Yacht Club on Saturday, January 14. Lunch from 1230. Presentation at 5pm. (with finger food). Spectator boats available from 2pm. Email jwr11751@bigpond.net.au
(Information posted in the West Australian newspaper)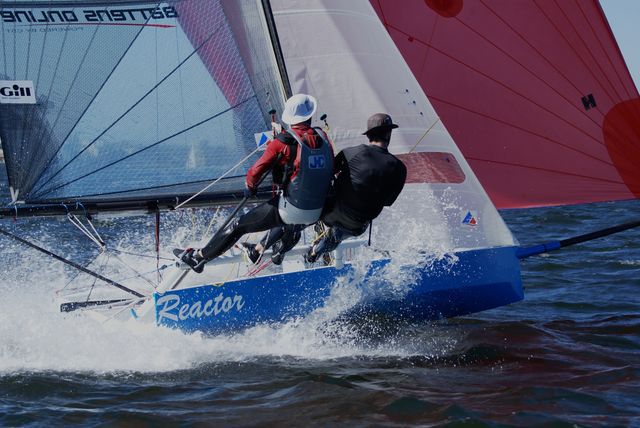 The Doctor finally arrived.......
Beware - The Walk of Shame
It can happen to anyone.............................Even normal people.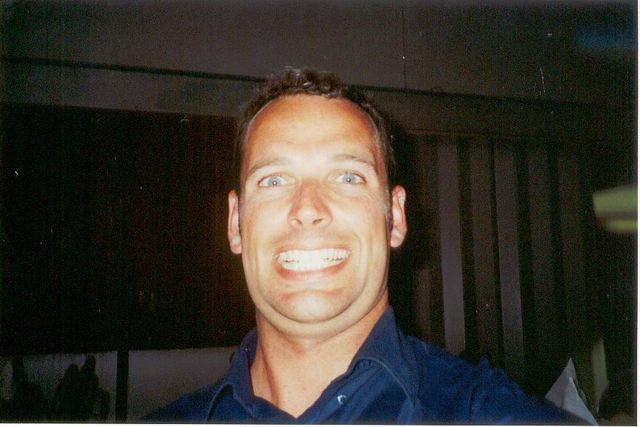 TRIVIA NIGHT - 3rd OCTOBER!!!
Race Report: Saturday 12th of Nov.
Race 1:
I don't know who is controlling the weather at the moment but I swear they are just taking the piss at times. Saturday's State Selection races were a prime example of this as it was shift city. We had a good fleet of boats line up in changeable conditions of anywhere between 8 to maybe 13 knots and as we came out of the start line a shift came through that had those of us at the boat end pointing towards the club, then it changed again within 10 boat lengths making us point back at the freeway, then 5 boats lengths later we're pointing at the club, then back to the freeway. It was almost as if the alien or whatever existential being you believe in that is in charge of the wind had his hand on the control, swinging it back and forward saying "take that suckers hahaha". Either way, it made for some interesting racing up to Matilda.
I for one was all for the short courses that were put together by the class on the weekend (I believe Nigel Smith may have been responsible, if so, well done Nige). It was normal start near poplar, then an upwind beat to Matilda, then the run around the corner and up to Colonel Sanders and his bucket of fried chicken, then back into the bay past Dinghy, round Brewery and back up wind to the finish line which was bout half way to Matilda. This meant for some close racing and as we worked up to Matilda the first time, there were boats crossing all the way. I'm not exactly sure who was leading around the mark because I was busy trying to tune sails that I hadn't used before and trying to pick shifts that were coming out of nowhere, but I believe Brad & Footy on Del Boca Vista were up there, along with Steve & Ben on Sharkbait, so basically, it was the usual suspects. Round the corner we were right behind sailing's self professed superstar Dave Von Felten who had actually decided to turn up this weekend. He and his bro had also rolled out a brand new set of sails from Dave A so we were stoked to be not far behind. Courtney "Lumberjack Love" Maher and Pistol Pete on Snatch had a nice new looking set of Hyde Sails on board and they came smoking past us higher and faster on the way up to Sanders. That boat is damn fast!
Lots of downwind action for everyone with Luggy & Super Brams on Bullet somewhere up the front chasing Del Boca and Sharkbait with Luke & Willow on Carbon Comet who are showing a lot of pace in all conditions at the moment and its only medium breezes, so I'd expect them to go even better once we get the usual heavier sea breezes. In the end Del Boca Vista crossed the line first, followed by Bullet & Sharkbait third. Being a short course the fleet was pretty close with the last boat to cross only being within 10 minutes. I think that's pretty good and I believe the fleet is quite close so far this season which makes for some great racing.
Race 2:
Rinse, repeat and rinse again. The start for this race was very interesting from the point that we all probably got there a bit early and were struggling to not cross before the gun. Unfortunately someone did and the gun sounded for a second time but being a short course we weren't going to stop and go back coz then you're basically cactus. Better to keep going and hope it wasn't you.
At the very pin end the younger Vances on Ventura were trying to do their best impression of a layback spin when the wind dropped away and nearly put them in the piss. Tony Carr & Simon Wilder on Zero were off on a flyer at the start as we struggled to stay with them. Dave & Mike Von Felten on DVF Carpentry had got those new sails working and were going well. Usual suspects round the first mark in front and then we all started the trek to Colonel Sanders. I found the conditions to be a bit tricky as it was lumpy and not too much breeze which is always a crap feeling coz its like pushing shit uphill. Nigel Smith and stand in crew Dave Mooney on Trim Tummy were right in the pack in this race, showing some good speed as they diced with Jet, Royston Vasey and us on More Grunt trying not to be last. Royston Vasey had really got some speed going again as Lillis & JW came cranking past us to beat us to Sanders.
The kite runs were fun. Lots of cruisers to dodge and boats crossing tacks on the way back into the bay. We couldn't make the run past Dinghy without dropping the kite but I think everyone else got past ok. Del Boca Vista got the win again, followed by Sharkbait and DVF Carpentry in third which is just as well for Dave because he'd been busy telling everyone via email about how he was going to school us on sailing when he turned up this weekend.
I wasn't able to race on Sunday due to having to fulfill my obligations as Rock N Rolla so Courtney "Lumberjack Love" has kindly completed a report for the second day.
Looking forward to next weeks race even though I don't have a crew organized yet. Looks like its going to be a big breeze.
See ya out there!*
Rock N Rolla
* This race report is likely to be complete gibberish...
Racing Sunday 13/11/11
Conditions on Sunday were much similar to Saturday if a bit more consistent. A lot more west in it than usual with a few big swings that if played right payed off. The first race though we knew started at 1430 was missed by a few who were out there with time but too busy getting in the zone they forget about the start, myself n Pistol on Snatch and the lads on Zero included.
The short windward return courses made for some really impressive, close racing with positions changing hands all up the first work and crossing paths again on the downhill leg. In the first race Stevie and Ben Lowry had a few dramas around the top end and ever so gently laid her in the drink to sort it out, which they did and were chasing right on our hammer.
BD and Footy copped the buzzer in the first followed by Luggy and Lukey. Hanging around the start line as soon as we'd finished not wanting to miss another start. Luggy and Brams on Bullet attempted a textbook pin on port start for the ever so biased line but epically failed and there were the faces of a few soiling themselves when there were nearly a few head on collisions. The boys recovered well from the failure though.
There was also an individual recall on that start who would be DSQ and not get the win they wanted.
Returning from the middle of no where this week, were the Dave (terrible haircut) and Mike (moustache ride) Von Felten brother's on DVF Carpentry 043994*166 'Polish Your Wood', with brand new DA sails on had some sort of dramas with the boys flopping around on the deck and drifted out of that one.
After BD and Footy's start over the line, they raced around the track and missed the hooter on that one only to have the boys on Sharkbait claimed it in fine form recovering from the upset in the first. Second and third came Tony Carr and Luggy.
The last race Pistol and I were joking about the idea of the pin end flyer but then opportunity arose and we snatched it (that's why it's called Snatch), with everyone on starboard and my balls somewhere in my throat we cleared the fleet and looked at a series of smiling faces to the sounds of Pistol Pete's cheers of joy. Stoked about the start, though it was short lived when the blokes that took the Nedlands shoreline smoked the fleet.
That downhill run was one of the best in a while, with some killer rides showing any spectators why we do it. Boats crossing paths and changing places, tactical downhill sailing but the real action was when all the boats met back at the bottom end for the last time.
Heading to Foam, Snatch gybed infront of Lukey D and Willo on the Carbon Comet where I nearly poo'd a little on starboard. Then 'what's he thinking' DVF comes in on port claiming water around the boy. "STARBOARD" the boys on the comet yelled to which Dave replied "nah mate water on the buoy" ahahah some more colourful language and then the moustache bros jammed the tiller to gybe around the mark, and then successfully put their new sails in the piss, thanks for coming lads.
Caught up in the action I didn't see who got positions but tried hard to catch them all.
Great sailing.
Cheers.
Mr love?
STATE SELECTION SERIES HEAT ONE – START TIME 14:30

POSITION

BOAT

TIME

1

DEL BOCA VISTA

15:08:09

2

BULLET

15:08:25

3

SHARK BAIT

15:08:40

4

CARBON COMET

15:09:32

5

QUICKSHIFT

15:09:34

6

DVF CARPENTRY

15:10:13

7

SNATCH

15:11:25

8

ZERO

15:11:29

9

MORE GRUNT

15:12:02

10

ROYSTON VASEY

15:12:52

11

JET

15:14:55

12

TRIM TUMMY

15:18:41
STATE SELECTION SERIES HEAT TWO - START TIME 15:25

POSITION

BOAT

TIME

1

DEL BOCA VISTA

15:59:36

2

SHARK BAIT

16:01:47

3

DVF CARPENTRY

16:01:48

4

QUICKSHIFT

16:01:49

OCS

CARBON COMET

16:01:50

5

SNATCH

16:02:08

6

ZERO

16:02:35

7

BULLET

16:02:42

8

ROYSTON VASEY

16:03:03

9

MORE GRUNT

16:06:24

10

JET

16:06:55

11

TRIM TUMMY

16:11:55

12

VENTURA

DNF
STATE SELECTION SERIES HEAT THREE – WIND 10 KNOTS

POSITION

BOAT

TIME

1

DEL BOCA VISTA

14:52:53

2

BULLET

14:53:43

3

CARBON COMET

14:54:33

4

DVF CARPENTRY

14:55:23

5

VENTURA

14:55:43

6

SNATCH

14:56:34

7

SHARK BAIT

14:56:34

8

ZERO

DNC
STATE SELECTION SERIES HEAT FOUR

POSITION

BOAT

TIME

OCS

DEL BOCA VISTA

15:25:48

1

SHARK BAIT

15:28:03

2

ZERO

15:28:36

3

BULLET

15:28:48

OCS

CARBON COMET

15:28:56

4

VENTURA

15:28:59

5

SNATCH

15:29:02

6

DVF CARPENTRY

15:31:55
STATE SELECTION SERIES HEAT FIVE

POSITION

BOAT

TIME

1

DEL BOCA VISTA

16:00:37

2

SHARK BAIT

16:00:58

3

BULLET

16:01:40

4

CARBON COMET

16:02:16

5

SNATCH

16:02:25

6

ZERO

16:03:11

7

DVF CARPENTRY

16:03:36

8

VENTURA

16:04:01
Overall State Selection Series Results
BOAT

SKIPPER

1

2

3

4

5

TOTAL

1

DEL BOCA VISTA

B. DEVINE

1

1

1

OCS

(14)

1

4

2

SHARK BAIT

S. WALTERS

3

2

(7)

1

2

8

3

BULLET

D. LUGG

2

(7)

2

3

3

10

4

DVF CARPENTRY

D. VONFELTON

6

3

4

6

(7)

19

5

SNATCH

C. MAHAR

(7)

5

6

5

5

21

6

ZERO

T. CARR

8

6

DNS

(14)

2

6

22

7

CARBON COMET

L. DEVINE

4

OCS

(14)

3

OCS

14

4

25

8

VENTURA

S. VANCE

DNS

(14)

DNF

14

5

4

8

31

9

QUICKSHIFT

C. ELLIOT

5

4

DNS

(14)

DNS

14

DNS

14

37

10

MORE GRUNT

M. HARSKAMP

9

9

DNS

(14)

DNS

14

DNS

14

46

11

ROYSTON VASEY

G. LILLIS

10

8

DNS

(14)

DNS

14

DNS

14

46

12

JET

T. VANCE

11

10

DNS

(14)

DNS

14

DNS

14

49

13

TRIM TUMMY

N. SMITH

12

11

DNS

(14)

DNS

14

DNS

14

51
Race Report Sat 5th of November: Dash For Cash, Round 2
Saturday saw the second round of the Dash For Cash series being run under stormy skies, with changeable winds and rain included for free.
Unfortunately for myself, I had no crew, so I was watching the chaos from onshore as the breeze changed direction and strength like a 5 year old goes nuts after too much red cordial. Being onshore, this will be a short report as i didnt see much and havent had many people volunteer information, so I've had to do my best with what I've seen & been told.
At the start, from what I could see, half the fleet went left and the other half went right. Brad Devine & Footy on Del Boca Vista were up front as usual but from the shore, it looked like Luke & Willow in Carbon Comet were going to come across the top of everyone at one stage. Cue the usual change of wind and then Carbon Comet went in backwards as Brad sailed past. The fun had just begun as Brad & Footy decided they were doing things too easy, so they hooked up on the top mark and dragged it to what they must of thought was a better position. After doing the obligatory 360, Syd & Drew went past in Reactor, set the kite and led the fleet on the long run to King.
Courtney "Lumberjack" Maher had Pistol Pete on board Snatch for this race, and was looking famous near the top mark as he rounded in third. Phil Vance was subbing for Dave Von Felten again and he and Mike Von Felten were having some teething problems on DVF Carpentry getting used to different boats and crews etc, but they were battling away and didn't give up.
At one stage, there were so many subtle changes of wind direction, that from onshore it looked like two different boats were heading in almost the same direction, under full spinnaker, on opposite tacks. Ah the joys of Nor Westers...
Steve & Ben on Sharkbait were also prominent early, but apparently when they gybed they must of fallen into some bad air or the wind did one of its unpredictable changes and they seemed to disappear for a bit. From where we stood on the balcony, the rain kept coming over in massive sheets which completely obscured the river from more than 100 metres away, so we couldn't really see much of what was happening in the race. The reports I received afterwards were that Brad & Footy on Del Boca Vista managed to gain the lead and held it to the line for the outright win. Luggy & Super Brams on Bullet had a great run from Anderson (must of flown in the government choppers again) and pipped Syd & Drew for second, leaving Reactor to take third. I didn't get to see much of what went on after that. Steve & Ben on Sharkbait took the $200 in the Dash For Cash handicap.
I'm hoping we'll have some sunny skies and a nice 15 knot seabreeze this weekend so we can get back to some normal conditions before the Nationals which are getting ever closer.
See you all out there! *
Rock n Rolla
* all information in this report is likely fictional and could be totally incorrect..
Club Heat 1-Saturday 29th Of October
We had the first of what I like to call our "lucky lottery" easterly breezes on the weekend. This is the kind of breeze where you can be nearly last one minute, and then get a line of wind come out of nowhere and the next thing you know you're up the front battling for the big money. It's like taking a lottery ticket and hanging on to see what you get, hence the term. Either way it takes a lot of skill & some luck to bag a win in an Easterly and there was plenty of both on show on Saturday.
We had a good fleet of 14 boats roll up for the 1st Club Heat which is a good start. We're still missing a few guys who couldn't make it so once the full fleet is assembled we could have upwards of 16 or more boats which will be fantastic.
It was about 8 knots on the start line as the we all jockeyed for position, with some boats doing some radical steering maneuvers between others in order to get the best start possible (a little birdie tells me that Syd was feeling rather brave on Reactor and was doing donuts in his best impression of the Crusty Demons on water). Needless to say we all got going and Tony Carr on Zero jumped out of the blocks to an early lead which evaporated after he tacked and the wind disappeared. Del Boca Vista led us all around the first mark with a gaggle of Vances in tow as well as the mighty More Grunt making a brief appearance in the top 6. A nice kite run down to Crawley and then it was the long climb out of the bay towards King. The younger Vances on Ventura took a gamble and went way left, which paid off for them as they shot into the lead coming out of the bay, but once the breeze picked up Del Boca got past them to King.
The rest of the pack were pretty tight with Benny Austin on Yeah Baby, followed by Reactor, Deep Purple, Zero, Jet and More Grunt all moving around within spitting distance as we all tried to guess where the breeze was going to appear next with Nigel on Trim Tummy chasing everyone. JW & Lillis on Royston Vasey were having some boat & cruiser issues again from what I could tell, causing them to retire from the race which is a shame. I'm sure they'll get things sorted soon and be very competitive.
Luke & Willow were up the front on Carbon Comet as well. I know that because I kept seeing the familiarly unpleasant sight of the Freo Dockers themed kite popping up amongst the front runners (I only say unpleasant because I'm not a fan of mixing red white green & purple together, but to each their own. It certainly doesn't slow them down and its good to see them going so well). It seems Steve & Ben on Sharkbait have obviously got their vang issues from the previous week sorted as they we right in the hunt for the big prize as the front guys rounded Dolphin East, with rumours that someone (who shall remain unnamed) was using his spinnaker pole as an alien probe.
This is where we get to the part in the race where we all do the King-Dolphin East-King-Dolphin East tango, with varied results. Sometimes it pays to go left, sometimes you go left and get exactly that, left out in the cold while some smarmy bugger sails right up the middle of the course on their own personal line of breeze while your perfectly becalmed. After playing spinnaker chicken with Court & Elliot on Snatch, we headed up to Anderson but couldn't keep the same height, so we got left 100 metres to leeward. This meant that once we got towards the top mark, we got left in nothing while they got around the mark, got the kite up and got away. We'd had a nice battle with Court, The Younger Vances and the Middle Vances, as the more experienced Vances, were kicking all our asses.
According to Super Brams, they were lagging behind the front group on Bullet, then Luggy put in a call to the government and had his own helicopter flown in to give them enough breeze to make it to the top mark amongst the front guys (that's what he said, no fibbing). Apparently it was a bit of a slugfest all the way down to the finish, with an almost 4 way tie across the line. There was some argy bargy and a few things said in the heat of the moment apparently, but hopefully all is resolved and the boys are ready to resume pleasantries next week. Its all fun & games when the pressure is on.
In the end Steve & Ben on Sharkbait got the win, followed by Carbon Comet, Del Boca Vista, and Bullet fourth. I'm not exactly sure who came where after that, but Cam & Rob on Bargain Of The Century were somewhere in the mix. I have to mention that after being in front of us all day, I do believe the more experienced Vances on Jet were pipped at the post by the younger Vances on Ventura. I'm sure that will bring some interesting surprises under the Christmas tree in a month or two's time.
Once again the handicappers felt sorry for Pete & myself and gave More Grunt the win on handicap, with Ventura second and Bullet third so thanks to them and well done to all. *
See you next week!
Rock N Rolla..
*All information contained in this report is subject to the slightly old & dimming memory of this skipper so may not be factual in any way.
Race Report, Sat 22nd of October 2011:
Miserable skies greeted a strong fleet of i14's for the second race of the 2011-12 season on saturday and it was looking like it was gonna be a drifter with not much breeze on offer as we set off for the start line. Luckily the breeze started to build just before the starting sequence so by the time Capt Cook Cruises made thier usual appearance we had a decent amount of wind to get underway. This was the first of the City Waters "Dash For Cash" races where the winning boat on handicap wins $200 so there was tension in the air as everyone wanted a piece of the action.
Its important to note there's been a fair bit of "musical crews" going on in the off season so there was a few combinations getting used to racing together in this race. We also had some celebrity cameo's going on with Dave Von Felten taking the rockstar skipper thing a bit too far and not only getting his crew to rig his boat for him so that he could turn up late and sail, now he also had Stuart Sloss be the stand in skipper coz he didnt even turn up? How rockstar is that?
Anyway, we also had GE step onto Nigel's boat "Trim Tummy" which i think is fantastic thing as we need to try to keep as many boats on the water as possible and Nigel is a big contributor to the class since he's been in the fleet. Andy Vance was crewing for Tim Vance on "Jet" which made it slightly easier to describe which boat was which as we only had 2 sets of Vance's instead of the usual 3 sets (Young Vances, Middle Vances & Experienced Vances).
Once the gun went it was business as usual as Brad & Footy in "Del Boca Vista" streaked off and went right, where as a couple of us others stayed left. By the top mark, Del Boca was in front as per the script with some of who went left lucking out with a bit of breeze so even us hacks in the mighty "More Grunt" were up the sharper end of the fleet fighting for space with Luke & Willow on the blindingly purple "Carbon Comet".
Steve Walters and new crew Ben Lawry were moving quick with a new rig but ran into some trouble around the corner which allowed some of us mere mortals the once in a lifetime chance to say " hey we just passed Steve". I'm sure once they sort whatever broke that usual service will resume.
Once we got to "colonel sanders and his bucket of fried chicken" (mark 2), there was a good breeze around so the first kite set was gonna be interesting. Unfortunately we on the mighty More Grunt couldnt convince Ray Hancock's car cover spinnaker that we were borrowing out of the spinnaker chute so we watched a whole bunch of boats sail past us under kite while we sorted it out. Amongst those boats were the new addition to the fleet of Courtney "I'm a lumberjack and i'm ok" Love and his bro Elliott who have been practising hard over the off season on "Snatch". Thier hard work is paying off as they have been very impressive so far showing good pace and an ability to stay upright which is no mean feet in a 14. The younger Vances have renamed thier boat "Ventura" alomg with a very nice deck respray and are also looking the goods.
Somehow, during the kite run down to foam and then the long work back up to deep water, Tony Carr and new crew Simon Wilder on "Zero" found thier way towards the front of the fleet along with Cam Elliot & Pistol Pete with both boats having great boat speed and crew work to match. Luggy & Super Brams were not far behind in "Bullet" and "Jet" was pushing them along. It was towards the end of that downward kite run from deepwater that the breeze picked up and we were reminded how bloody fast these boats are under kite. Being flat strap, 2 on a wire with a kite up smashing down the river on a saturday dodging mobile chicanes (cruisers), does all sorts of things to your heart rate & other parts which clench & unclench depending on the level of impending disaster you are facing at the time. Still, it makes for tall stories at the bar after the race so its worth it.
Apparently Cam decided his centreboard was too long so he sanded a bit off on the way back into the bay, and was later heard to report that it didnt seem to make any speed difference. We were a fair way back by then so all i can tell you is that Brad & Footy won on "Del Boca Vista", Tony Carr & Simon Wilder was second on "Zero" and Luke & Willow on "Carbon Comet" were third.
It was a great race and in what was seemingly a turn of charity, the $200 for the "Dash for Cash" was awarded to the mighty "More Grunt", which must of been as it was the oldest boat in the fleet (without a rebuild Tony). Still, never look a gift horse in the mouth i always say so we were stoked to win the prize. Thanks to our sponsors City Waters Hotel for putting up the money for the race. All of the i14's appreciate your continued support.
Cheers,
Rock n rolla..
Results
WA I14ft Skiff State Titles 2011 Results

Sail No

Boat Name

Skipper

Crew

Series Score

Place

Race

7

Race

6

Race

5

Race

4

Race

3

Race

2

Race

1

661

Del Boca Vista

Brad Devine

Ian Furlong

6.0

1

[1.0]

1.0

1.0

1.0

1.0

1.0

1.0

14

Bullet

David Lugg

Dave Bramley

18.0

2

5.0

2.0

[12.0Q]

2.0

2.0

3.0

4.0

639

Reactor

Ian Arber

Drew Farrar

27.0

3

4

[8.0]

5.0

5.0

5.0

2.0

6.0

80

Zero

Tony Carr

Darryl Dedman

30.0

4

3.0

4.0

[12.0F]

3.0

4.0

4.0

12.0S

662

Fastacraft

Luke Devine

Andrew Wilson

31.0

5

2.0

3.0

3.0

7.0

11.0

[12.0F]

5.0

602

DVF Carpentry

David Vonfelten

Justin Walford

34.0

6

[12.0F]

5.0

2.0

4.0

9.0

12.0S

2.0

637

Royston Vasey

Graeme Lillis

Ben Lawrie

39.0

7

6.0

7.0

6.0

6.0

7.0

[12.0F]

7.0

626

Snatch

Stuart Sloss

Courtney Mahar

40.0

8

[12.0F]

6.0

4.0

12.0F

3.0

12.0F

3.0

624

Jet

Tim Vance

Greg Vance

47.0

9

[12.0S]

12.0S

12.0S

8.0

8.0

6.0

12.0F

627

Deep Purple

Phil Vance

Andrew Vance

66.0

10

[12.0S]

12.0S

12.0S

12.0F

6.0

12.0F

12.0F

601

WOW

Graeme Everett

Garry Sloss

70.0

11

[12.0S]

12.0S

12.0S

12.0F

10.0

12.0S

12.0F


International 14 National Championship
Hosted by Adelaide Sailing Club
Series Results [Class ET] for 14'Skiff up to Race 6 (Drops = 1)

Sail No

Boat Name

Skipper

Crew

Ties

Sers Score

Place

Race 6

Race 5

Race 4

Race 3

Race 2

Race 1

1519

George 1st

Archie Massey

Dan Wilsdon

6.0

1

1.0

1.0

2.0

1.0

[2.0]

1.0

663

Ronstan/Irwinn Sails

Lindsay Irwin

Andrew Perry

14.0

2

3.0

5.0

[5.0]

2.0

1.0

3.0

653

Touring Wombat

Dave Alexander

Cam McDonald

15.0

3

4.0

2.0

1.0

[6.0]

3.0

5.0

656

To Late To Stop Now

Mark Krstic

Andrew Wilson

18.0

4

2.0

4.0

[7.0]

3.0

5.0

4.0

666

el diablo

David Hayter

Trent Neighbour

23.0

5

10.0

[33.0F]

3.0

4.0

4.0

2.0

652

Flaunt It

Ron Scherwinski

James Lanati

41.0

6

[20.0]

6.0

11.0

7.0

7.0

10.0

657

Do You Get It Yet!?

Roger Blasse

Andrew Gilligan

43.0

7

8.0

7.0

[14.0]

9.0

11.0

8.0

645

Ray & The Crazy 88's

Anthony Anderson

Matt Balmer

46.0

8

9.0

[33.0O]

10.0

10.0

10.0

7.0

14

Bullet

David Lugg

David Bramley

47.0

9

6.0

8.0

[16.0]

11.0

8.0

14.0

659

CST Composites./DP C

Johnathan Whitty

Greg Dixon

48.0

10

5.0

[33.0O]

4.0

27.0

6.0

6.0

661

Del Boca Vista

Brad Devine

Ian Furlong

51.0

11

[17.0]

3.0

15.0

5.0

15.0

13.0

639

Reactor

Ian Arber

Drew Farrar

57.0

12

[18.0]

10.0

6.0

17.0

13.0

11.0

655

One More Grunt

Greg Coutts

Tim Caldwell

60.0

13

16.0

[33.0F]

9.0

14.0

12.0

9.0

635

Yeah Baby

Ben Austin

Luke Devine

60.5

14

14.0

9.0

12.5

13.0

[16.0]

12.0

660

Repeat Offender

Stephen Edmunds

Michael Woodroffe

65.0

15

7.0

13.0

[18.0]

16.0

14.0

15.0

627

Deep Purple

Phillip Vance

Andrew Vance

68.0

16

12.0

16.0

8.0

15.0

17.0

[21.0]

626

Snatch

Stuart Sloss

Courtney Mahar

72.0

17

[33.0S]

15.0

19.0

12.0

9.0

17.0

647

Quickshift

Cam Elliott

Drew Malcom

72.5

18

25.0

11.0

12.5

8.0

[33.0F]

16.0

665

ARGO

Stewart Vickery

Sam Duncan

85.0

19

13.0

12.0

20.0

18.0

22.0

[22.0]

511

Ghost

Damien Carey

Marcus Cooper

100.0

20

[29.0]

14.0

21.0

23.0

18.0

24.0

630

Sliver

Breck Mitton

Tom Crabb

102.0

21

19.0

[33.0F]

22.0

24.0

19.0

18.0

638

Roger Ramjet

Ben Strong

Brett Wall

108.0

22

27.0

[33.0F]

17.0

20.0

25.0

19.0

514

Mixican Wave

Trevor Dinham

Robert Gilchrist

115.0

23

[28.0]

18.0

26.0

25.0

21.0

25.0

624

Jet

Tim Vance

Greg Vance

116.0

24

33.0S

19.0

25.0

19.0

20.0

[33.0F]

651

Prem Sailing Croatia

David McGeoch

Bridget McGeoch

15.0S

117.0

25

15.0

17.0

30.0

26.0

29.0

[33.0S]

667

PTG

P Tomamichel

G Tomamichel

117.0

26

22.0

21.0

[29.0]

28.0

23.0

23.0

668

Rum Balls

Scott Davis

Allen Davis

118.0

27

24.0

23.0

23.0

22.0

26.0

[26.0]

362

Herbie

Cameron Dale

J Warren

11.0S

122.0

28

11.0

22.0

27.0

33.0F

[33.0F]

29.0

644

Ron Jeremy

Chris Vaughan

Daniel Vaughan

122.0

29

26.0

20.0

31.0

21.0

24.0

[33.0B]

664

Back in Black

Robert Vickery

Kymara Stowers

123.0

30

23.0

[33.0F]

24.0

29.0

27.0

20.0

41

Windsandsea

Neil Patchett

Simon Patchett

129.0

31

21.0

24.0

28.0

[33.0F]

28.0

28.0

345

Premier sailing Croa

David McGeoch

Bridget McGeoch

159.0

32

33.0S

33.0S

33.0C

33.0S

[33.0S]

27.0
(Ties: S=Score R=Race B= Bettered. Penalties: A=ARB B=BFD C=DNC D=DNE E=ESP F=DNF G=RDG L=Late Entrant M=DGM N=ENP O=OCS P=Protest Q=DSQ R=RAF S=DNS U=DUT V=AVG X=EXC Z=ZFP Y=SCP #=NoData [x.y]=Discarded)